Quick Take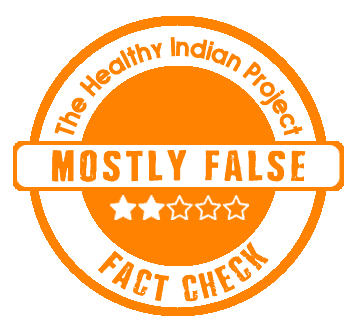 A social media post claims that the presence of fluoride in drinking water makes it unsafe for use and is even ineffective in preventing tooth decay. We fact-checked and found this claim to be Mostly False.
The Claim
In a Facebook post, the narrator states, "We have been lied to about fluoride. It is an extremely toxic chemical that I believe we should not be drinking, cooking, or showering with. Here's why. Fluoride was added to our water more than 70 years ago based off inaccurate and misleading studies that claim that fluoride promotes strong and healthy teeth but we now have substantial evidence showing that fluoride is neither safe nor effective at preventing tooth decay."
Fact Check
What are the benefits of fluoride in drinking water?
Fluoride is a mineral that is naturally occurring and can also be added to drinking water as a public health measure. Fluoride in drinking water helps to prevent tooth decay. It has been shown to improve oral health by reducing the number of cavities and tooth decay, especially in children. It is a cost-effective way to prevent tooth decay, especially in communities where access to dental care is limited. However, even though fluoride in drinking water provides these benefits, excessive exposure to fluoride can lead to fluorosis, which is a condition that causes discoloration and mottling of the teeth. Therefore, it is important to monitor and regulate fluoride levels in drinking water to ensure that they are within safe limits.
Is Fluoridated water unsafe for drinking?
Only in a certain scenario. Excessive long-term exposure to fluoride can have adverse effects, which include osteoporosis, dental fluorosis and damage to bones, kidney, reproductive organs, nerve and muscles. However, fluoride in low concentration maintains and solidifies bones and prevents dental caries. Therefore, parameters have been set by the countries to limit the levels of fluoride in water. The IndiaWaterPortal.org website informs the limit is 1.5 mg/L. It must be noted that even without fluoridation, the natural levels of fluoride in water in some places can be higher than 4 mg/L.
Dr. Kashyap Dakshini, General Physician further clarifies by stating, "Drinking fluoridated water reduces the incidence of dental cavities and keeps the teeth strong. The WHO has stipulated the upper limit of fluoride in drinking water. However, only if it is consumed in excess amounts in drinking water, then it can cause dental & skeletal fluorosis, arthritis, osteoporosis, muscle damage, and fatigue. Higher than upper limits consumption could also cause toxicity and damage the heart, arteries, kidney, liver, endocrine glands, neuron system, and several other delicate parts of a living organism."
The American Cancer Society states that the optimal fluoridation of drinking water does not pose a detectable cancer risk to humans. However, there are a few pieces of research which claim that there is a possibility of cancer associated with the consumption of fluoridated water. But, more large, high-quality studies are needed.
THIP Media has already fact-checked a claim that stated that fluoride in water could damage the brain and found that we do not have enough scientific evidence to confirm fluoride in water supplies damages the brain.
We asked Dr. Abhishek Juneja, Consultant Neurologist in Delhi, if fluoridated water can damage the brain. In reply, he said, "Excessive fluoride consumption through drinking water may negatively impact a developing brain. Parents must ensure boiled or RO water for their kids."
Is Fluoridated water ineffective in preventing tooth decay?
Not exactly. Fluoride prevents tooth decay by making the enamel more resistant to the action of acids. They accelerate the buildup of healthy minerals in the enamel, which further slows down the occurrence of dental decay. Studies even show that, in some cases, fluoride can stop already-started teeth decay. Furthermore, systemic fluoride is easily absorbed and is taken up into the enamel during the period of pre-eruptive tooth formation.
The Indian Dental Association explains the benefits of fluoride by stating that "Fluoride enhances the tooth remineralization process. Fluoride found in a person's saliva will absorb onto the surface of a tooth where demineralization (tooth decay formation) has occurred. The presence of this fluoride in saliva, in turn, actually attracts other minerals (such as calcium), thus helping to speed up the rate or degree to which remineralization (reformation of tooth mineral) will occur."
This has been further confirmed by Dr. Sandeep Sharma, Dental Surgeon in Delhi, who said, "Fluoride is good for teeth because it hardens the enamel to prevent demineralization and cavities. However, fluoride should be used in moderate amounts. Chronic and regular consumption of high levels of fluoride results in white flecks and yellow or brown areas scattered over the tooth surface."
THIP Media has already fact-checked a similar claim which stated that fluoride toothpaste is harmful to teeth and found that fluoride toothpaste is only effective if used in moderation as prescribed by an experienced dentist.
Disclaimer: Medical Science is an ever evolving field. We strive to keep this page updated. In case you notice any discrepancy in the content, please inform us at [email protected]. You can futher read our Correction Policy here. Never disregard professional medical advice or delay seeking medical treatment because of something you have read on or accessed through this website or it's social media channels. Read our Full Disclaimer Here for further information.