Quick Take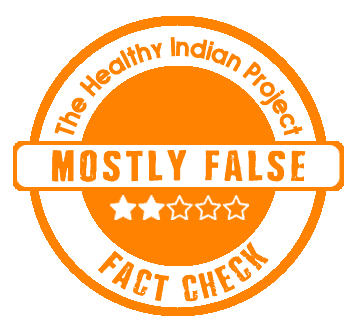 A social media post claims that young girls in America are experiencing early puberty and this phenomenon is exclusive to America. We fact-checked and found this claim to be Mostly False.
The Claim
The caption of a Facebook post reads, "American girls are starting puberty as young as 6 years old. An issue we're facing exclusively in America."
Fact Check
What is puberty?
Puberty is the process of physical changes in a child through which the child's body matures into an adult body capable of sexual reproduction. Many factors affect puberty development, namely: increased adiposity (fat mass), family history, nutrition, social factors and lastly, ethnicity.
Dr. Jugal Gada, Endocrinologist at Bhatia Hospital, Mumbai, adds to this by stating "In girls, the earliest sign of puberty is the development of breast (thelarche); few girls start with pubic hair development (pubarche) first. After that, there is an increase in the height spurt with further progress in developing the breast and pubic hair and finally, menarche."
What is early puberty?
Early puberty, medically called Precocious puberty, is when a child's body starts to go through the change into an adult body too soon, i.e., the child's physical signs of sexual maturity develop too soon.
Dr. Jugal Gada adds that in most populations, the mean age of onset of puberty is around 10.5 years in females and 11.5 years in males. "We usually define early puberty if it starts before eight years in females and nine years in males," says Dr. Gada. 
What are the causes of early puberty?
Research states that "For most children, early puberty starts for no known reason. It can run in families. Sometimes there is a problem in the brain, such as an injury, a tumour or an infection. Early puberty can also be caused by a problem in the sex glands (testes or ovaries), the thyroid gland or the adrenal glands."
Researchers are not entirely sure what causes precocious puberty in children, although there are links to factors such as obesity, stress, exposure to sex hormones and rare diseases.
What are the symptoms of early puberty?
Any secondary sexual characteristics such as breast development, hair growth under the arms or in the pubic area before the age of eight years in girls and before the age of nine in boys, and the first period before 10 years are alarming signs.
Paediatric endocrinologist Dr Vaishakhi Rustagi says, "Development of acne on the face, back or arms or change in body odour before the age of eight in girls and nine in boys is another sign to look for in children. The rapid growth could be indicated by the sudden change in the size of shoes, clothes, and the rapid fall of teeth, marking the effect of sex hormones on growth. A sudden increase in hunger can also be a sign of early puberty as a growth spurt is associated with increased appetite."
Is early puberty in girls exclusive to the U.S.?
No. Though the U.S. has produced studies which show that young girls are experiencing signs of puberty earlier than previously observed, other countries are also experiencing cases of early puberty. It is not a condition that is prevalent exclusively in the U.S. There have been studies published in the JAMA Pediatrics which studied worldwide secular trends with respect to early puberty. 
A study published in the Archives of Disease in Childhood did a cohort study on 5839 girls from the UK and concluded that in the contemporary UK, excess adiposity and psychosocial stress were associated with social inequalities in early puberty, while material disadvantage and adiposity were linked to ethnic inequalities in early puberty among girls.
Even in India, there have been cases of early puberty encountered by doctors. Endocrinologist Dr. Vaishakhi Rustagi further adds to this by stating, "Since June 2020, there has been a sudden rise in the cases of early puberty in girls, especially in the urban population. Last year, I saw about 7 to 8 cases of early puberty per week, which has risen to almost two to three cases per day. 40% of the girls who visited me with early puberty were in the age group of 8-9 years. I have close to 150 such cases in my clinic's database."
Disclaimer: Medical Science is an ever evolving field. We strive to keep this page updated. In case you notice any discrepancy in the content, please inform us at [email protected]. You can futher read our Correction Policy here. Never disregard professional medical advice or delay seeking medical treatment because of something you have read on or accessed through this website or it's social media channels. Read our Full Disclaimer Here for further information.