Quick Take
A social media post claims that Cholecalciferol, which is a type of Vitamin D, is a type of rat poison, and if anyone is taking Vitamin D from any other source other than the sun, then the person is getting poisoned. We fact-checked and found this claim to be Mostly False.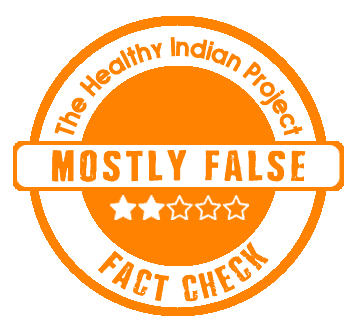 The Claim
A Facebook post with the caption, "If you get your vitamin D from anywhere other than the Sun, then you're being poisoned," shares the video of a man narrating about Vitamin D. In the video, the narrator refers to the Wikipedia page about Vitamin D and highlights a section saying "used as a rodenticide." He even says at 1;04 mark, "Do you know what it means? It's rat poison. Don't believe me? Click on it!"
Fact Check
What is Vitamin D?
Vitamin D, which is also called the 'sunshine vitamin,' is produced in the skin during sun exposure. It is a fat-soluble vitamin and can also be synthesized by the body. It helps the body to absorb Calcium and phosphorus, which are essential for developing the structure and strength of your bones. It also helps in improving the immune system, and cardiovascular function, keeps your respiratory system healthy and also helps in brain development.
Vitamin D is naturally found in fish-liver oils, fatty fish, egg yolks, mushrooms, and liver. However, the requirement of Vitamin D in the human body cannot be fulfilled by foods alone. A balanced approach to fulfill the body's need for Vitamin D lies in the right amount of sun exposure along with the right diet.
In the skin of humans, Vitamin D3 is photosynthesized by the action of solar ultraviolet (UV) B radiation on 7-dehydrocholesterol (as per Fieser 1959). Vitamin D2 is produced by ultraviolet irradiation of ergosterol, which occurs in moulds, yeast, and higher-order plants.
Does a person consumes poison if taking Vitamin D?
Not exactly. There is a lack of scientific evidence to prove that Vitamin D taken from any source other than sunlight refers to consuming poison. Vitamin D is a necessary nutrient that the human body needs to maintain healthy bones and teeth, as well as to support the immune system and other bodily functions.
It is true that Vitamin D3 cholecalciferol is used as an active ingredient in various rodenticides or rat poisons as it's toxic to rats and kills them. When used as a rat poison, cholecalciferol is often present in extremely high concentrations that can cause severe toxicity in rodents. However, the doses used in human supplements are typically much lower and fall within the safe range for human consumption.
Even though it is toxic for rats, taking Vitamin D is considered safe for humans in appropriate amounts. It is essential for the body as when there is insufficient vitamin D in the body, the absorption of dietary calcium is limited to only 10% to 15%. However, with normal vitamin reserves, the absorption rate typically increases from 30% to 40%. Inadequate vitamin D levels can result in rickets for children and osteomalacia for adults.
Furthermore, cholecalciferol is a natural form of Vitamin D that is synthesized in the human body when the skin is exposed to sunlight. It is also found in dietary sources such as fatty fish, egg yolks, and fortified foods. As a result, the human body has natural mechanisms to regulate its intake and use.
Yale Medicine writes on the myth, "Is it best to get your vitamin D from the sun? Definitely not! and explains, " It's just not true. The majority of people can get their vitamin D from nutritional supplements and from vitamin D-fortified foods."
While it is true that taking too much of any vitamin or mineral can be harmful, the recommended daily intake of Vitamin D is safe for most people. In fact, many people do not get enough Vitamin D from their diet or from exposure to sunlight and may benefit from taking a Vitamin D supplement. The NHS recommends not taking more than 100 micrograms (4,000 IU) of vitamin D a day as it could be harmful. However, the dosage for children and infants is different.
Disclaimer: Medical Science is an ever evolving field. We strive to keep this page updated. In case you notice any discrepancy in the content, please inform us at [email protected]. You can futher read our Correction Policy here. Never disregard professional medical advice or delay seeking medical treatment because of something you have read on or accessed through this website or it's social media channels. Read our Full Disclaimer Here for further information.