Quick Take
An old video has recently resurfaced on social media claiming that climate change is not happening. This video claims that there is no general agreement in science on the ongoing climate change. We fact-checked and found the claim to be Mostly False.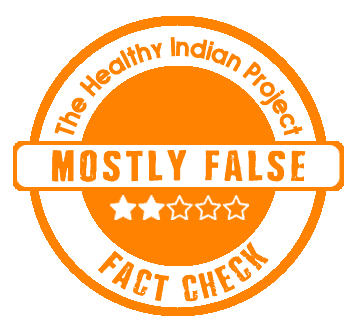 The Claim
An Instagram video claims that there are no facts in science to support the idea that climate change is actually happening. The person in the video asserts that science requires solid and undeniable facts, not the votes of people. Furthermore, the individual asserts that climate change is not taking place. Additionally, there is no significant human-caused global warming occurring at present. The video goes on to suggest that there was no global warming in the past and that there is no logical reason to expect any in the future.
Moreover, the assertion was made in the caption that the influence of money leads to biased viewpoints.
This video has received 45,962 likes till we last checked. We have attached the screenshot of the post below:
Fact Check
Why is this video deceptive?
This video appears to be deceptive due to several key factors that undermine its credibility and accuracy. Our research shows that there is a scientific consensus agreeing on the reality of climate change. The word consensus means a general agreement. In any field, experts take their decisions based on meticulous research and evidence. Likewise, scientific evidence in the field of climate science supports the consensus that climate change is real and affected by human activities. However, this video fails to accurately present these facts. It might be on purpose or by accident, but it's not telling the truth and could spread wrong information.
Furthermore, a Google reverse image search on a few keyframes from the claimed video took us to the original video. The original video is an interview with John Stewart Coleman, an American television weatherman. This interview took place on the show Reliable Sources on CNN in 2014 and resurfaced on social media again in 2023. Further investigation reveals that Coleman did not believe in climate change. He also disagreed with the stance of the American Meteorological Society on this matter. In a letter to UCLA on October 19, 2014, he expressed his disbelief in significant global warming caused by human activities. However, it is not the reality.
Is climate change not happening?
Climate change is indeed happening. There is a strong scientific consensus that Earth's climate is changing, primarily due to human activities that release greenhouse gases, such as carbon dioxide, into the atmosphere. These gases trap heat and lead to a warming of the planet, which in turn causes a range of environmental and societal impacts. This has led to various environmental and societal changes, including melting ice, sea level rise, extreme weather events, and shifts in ecosystems. The consensus among climate scientists is that urgent action is needed to mitigate these impacts by reducing greenhouse gas emissions and transitioning to more sustainable practices.
Disclaimer: Medical Science is an ever evolving field. We strive to keep this page updated. In case you notice any discrepancy in the content, please inform us at [email protected]. You can futher read our Correction Policy here. Never disregard professional medical advice or delay seeking medical treatment because of something you have read on or accessed through this website or it's social media channels. Read our Full Disclaimer Here for further information.