Quick Take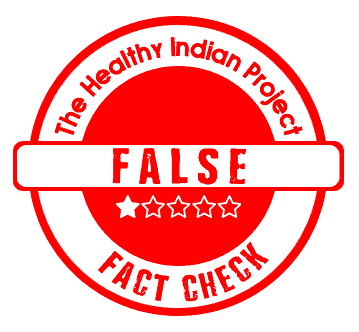 Multiple social media posts claim that 'clapping' is a scientific way of treating serious diseases like heart conditions and diabetes. Our investigation failed to find any scientific evidence favouring the claim. Due to a lack of scientific evidence, we have rated the claim as False.
The Claim
A news channel, published an article titled, "Clapping for health: Five benefits that will surprise you". The article claims, "Clapping has been scientifically proven as an effective exercise in curing many diseases".
On searching the internet, we found similar claims, some even made by people claiming to be doctors. Many such claims are linked to a medicinal practice called Acupressure.
Fact Check
What is Acupressure? Is it a valid medicinal practice?
In India, Acupressure is a healing technique clubbed under the medicinal practice of Naturopathy. Naturopathy is a recognized medicinal practice by the Government of India. The Ministry of AYUSH website defines Acupressure as, 'An ancient healing art that uses the fingers or any blunted objects to press key points called as 'Acu Points' (Energy stored points) on the surface, rhythmically on the skin to stimulate the body's natural self-curative abilities. When these points are pressed, they release muscular tension and promote the circulation of blood and the body's life force to aid healing.'
Can clapping help cure diseases?
No. We could not find any credible scientific research evidence about the benefit of clapping. The Central Council for Research in Yoga and Naturopathy, the apex body in India under which this field of medicine comes, has not listed any research about clapping in the last three years.
We could also track a mini-review in the Psychology and Behavioral Science International Journal titled, 'Clapping has Incredible Benefits'. The said review, published on August 17, 2017, was supposedly based on research findings and was submitted by Ms Sukanya Bose, Symbiosis Centre of Health Care (SCHC), Pune University, India. In the document, Ms Bose mentioned, 'Clapping is known to improve the overall heart health and improve blood pressure. Blood circulation to various organs is also improved by regular clapping. Clapping also helps improve asthma related problems by promoting function of nerve endings that connect these organs.' However, Ms Bose did not offer any scientific evidence or research references to support these claims. The claim was extensively critiqued by Stuart J McKelvie, Department of Psychology, Bishop's University, Canada, who published a paper in the same Journal on September 08, 2017. Mr McKelvie wrote, 'Future research may reveal positive effects of clapping, but at present, there is lack of scientific support….the claims made in the mini review are wide-ranging, but are not accompanied by the scholarly evidence and citations required by the journal'.
We have reached out to Ms Bose about her mini-review. But till we hear from her, based on the critique and considering that the original review actually had no supporting evidence, we are not counting the validity of the document.
We could track one research publication in Science Daily that claims, 'Hand-clapping songs improve motor and cognitive skills'. But again, this 2010 study was done to observe the improvement of motor skills in kids. There was no relation between clapping with serious ailments like heart disease, diabetes, asthma, and arthritis.
Spine Surgeon, Dr Saransh Gupta, says, "Acupressure is a complementary therapy frequently used for pain management and treatment of osteoarthritis, back and neck pain. Some published randomised controlled trials have demonstrated the benefits of acupressure when compared with physical therapy and other traditional methods. However, there is no published evidence available to people that confirms clapping to be an effective acupressure exercise. But clapping may reduce musculoskeletal pain and disability caused by arthritis. While the exact mechanism is poorly understood, it has been proposed by researchers that clapping may put pressure over the acupuncture points in hand that may improve blood circulation, joint movement and elevate mood."
Diabetologist and Endocrinologist, Dr Anjali Bhatt says, "There is no strong evidence or proof that suggests a strong association between clapping and benefits for diabetic patients. But if you are clapping out of happiness, then happiness can reduce your stress levels. And that can definitely be beneficial for controlling your diabetes as a lifestyle disorder and stress management".
Disclaimer: Medical Science is an ever evolving field. We strive to keep this page updated. In case you notice any discrepancy in the content, please inform us at [email protected]. You can futher read our Correction Policy here. Never disregard professional medical advice or delay seeking medical treatment because of something you have read on or accessed through this website or it's social media channels. Read our Full Disclaimer Here for further information.