Quick Take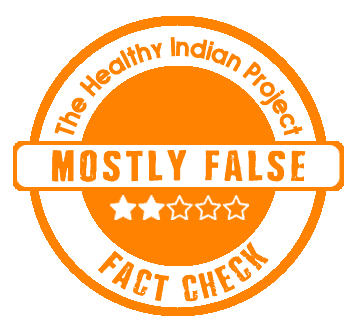 A social media post claims that chicken is not human food. It is poison. The post further claims that chicken is not a real animal and was created by man. We fact-checked and found this claim to be Mostly False.
The Claim
The caption of an Instagram post reads, "A Chicken Is Not A Real Animal❗️I Repeat A 🐔 Was Created By Man & Not By The Our Creator‼️"
The post shares a picture which reads, "Did you Know? Chicken is not human food; It's poison."
Fact Check
Is chicken poisonous?
Not exactly. There is no evidence that chicken meat is poisonous. Chicken contains an array of essential nutrients, and if it is properly cooked, it is safe to eat. However, if the chicken is raw, not properly cooked and contaminated with pathogens, then it might cause food poisoning in certain cases. But, there is a list of optional ways poultry companies can operate to make products safer to eat.
The chicken is often contaminated with certain pathogens, such as Campylobacter bacteria, Salmonella and Clostridium perfringens bacteria. The CDC states that 1 in every 25 packages of chicken at the grocery store is contaminated with Salmonella. Clostridium perfringens is a bacterium that is found in the gastrointestinal tract of broilers and is acquired from environmental sources such as water, food, etc.
One can get a foodborne illness or food poisoning if one consumes undercooked chicken. It is recommended to cook it to an internal temperature of 165°F. Heat treatments, such as cooking is sufficient to kill non-AMR (anti-microbial resistance) bacteria in food.
The symptoms of food poisoning include vomiting, diarrhea (with or without blood), fever, abdominal cramping, headache, dehydration, myalgia, and arthralgias. The typical treatment for this condition is rehydration, i.e., the consumption of fluids and electrolytes, medications to relieve diarrhea and nausea and antibiotics. However, if the symptoms worsen over time or a patient experiences bloody diarrhea, they must consult a doctor immediately.
Disclaimer: Medical Science is an ever evolving field. We strive to keep this page updated. In case you notice any discrepancy in the content, please inform us at [email protected]. You can futher read our Correction Policy here. Never disregard professional medical advice or delay seeking medical treatment because of something you have read on or accessed through this website or it's social media channels. Read our Full Disclaimer Here for further information.