Quick Take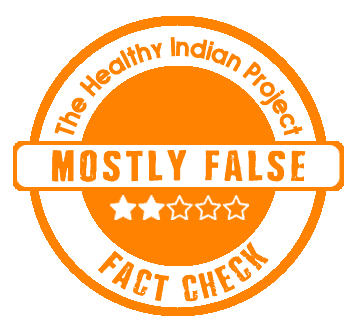 A social media post claims that taking a shower every day is harmful to the skin, and one must bathe every two to three days. We fact-checked and found the claim to be mostly false.
The Claim
"According to scientific reports, humans only need to shower every 2-3 days. A daily shower can cause irritated and cracked skin" read a social media post. The post can be found here and a screenshot is given below.
Fact Check
Why do we need to take bath?
We shower to maintain bodily hygiene, clean off dirt and sweat from skin and at times, to cool the body. Water is also a good way of putting moisture back into the skin. A study done on the subject also suggests that bathing can prevent us from falling sick.
How many times should we be bathing?
There is no medical recommendation on number of times a person should bath in a day or week.
Dr Saurabh Gaba, Associate Consultant, Internal Medicine, Paras Hospitals, Panchkula, explains, "Bathing does not hurt you. The optimal frequency can vary from multiple times a day to once every few days, depending on the amount you sweat, exposure to dirt and pollution, etc."
The frequency of bathing is dependent on the climate a person lives in and a job he works in. People who work in dirty jobs are often advised to bathe more frequently than others.
Can daily shower be harmful to skin?
Not exactly. Under normal conditions bathing should not be harmful to skin. There are studies that have shown that excessive hand washing can lead to skin damage. However, soaps and shampoos used, skin type of a person, and the climate in which they live plays a role in deciding how much bathing can be too much bathing.
We could not find any research that suggests that daily bathing will lead to skin damage.
Dr Sujata Chakravarti, Consultant-General Medicine, Hiranandani Hospital, Vashi-A Fortis Network Hospital, says, "The bacterial and fungal load from environment accumulates on your body and increases the risk of infection. Bathing cleans your skin to avoid irritation, inflammation and sores caused by dead skin cell accumulation. However, there may be instances where your doctor may advise you to restrict the frequency of bathing, for example, if you have a dry skin disorder. You may also need to restrict harsh soaps and excessive scrubbing."
Disclaimer: Medical Science is an ever evolving field. We strive to keep this page updated. In case you notice any discrepancy in the content, please inform us at [email protected]. You can futher read our Correction Policy here. Never disregard professional medical advice or delay seeking medical treatment because of something you have read on or accessed through this website or it's social media channels. Read our Full Disclaimer Here for further information.