Quick Take
A video on social media shows a person getting wrapped under a sauna blanket for quick weight loss. Along with the video, the post claims the treatment rejuvenates muscles and removes harmful toxins along with #loseinches. We fact-checked and found the claim to have a missing context and is Half True.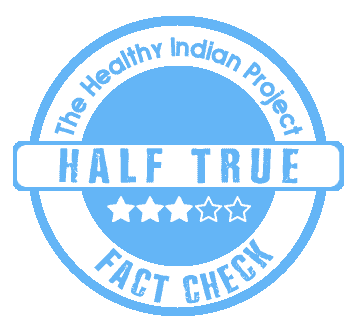 The Claim
A video on Facebook shows a person getting wrapped under three different layers which seem to be made of different materials along with 'Sauna Blanket treatment rejuvenate the muscles while get rid of harmful toxins! #detox #musclerecovery #bodysculptingtreatment #saunablanket #loseinches #sweatchallenge' written along with the video.
Fact Check
What is a sauna blanket?
A sauna blanket is a portable device which uses Far Infrared Radiation (FIR) to warm the body while zipped up in a blanket. Unlike steam saunas, FIR sauna blanket operates at a lower temperature. The available evidence shows that 'FIR therapy uses a certain wavelength of light to restore, repair, and protect cellular tissue. Also, FIR can affect bodily cells by increasing their mitochondrial function and producing more cellular energy'.
The Heliotherapy Research Institute website has shown that the temperature can exist between 70 to 180°C. Relaxing inside the sauna blanket for a short period helps people experience an intense sweat session and increased heart rate that can release toxins and speed up muscle recovery.
Sauna blankets can improve blood circulation, release the happy hormone, improve skin appearance or de-stress and improve sleep. However, dry saunas like sauna blankets are considered for weight loss.
Can a sauna blanket quickly lose inches?
It does not seem so. Sauna blankets cannot lose inches in one sitting. But, regular use can induce weight loss which might temporarily reduce a few inches. Sauna blankets cannot lose fat. Any kind of sauna can target weight content by reducing water retention in the body by releasing sweat. However, the weight gets replenished by one's dietary preferences.
Fat loss is induced by increasing the metabolic rate which any kind of sauna does not seem to do. Metabolic rate can be increased by regularly eating a healthy diet and doing exercise which is a significant metabolism booster.
This has been further confirmed by Dr. Kashyap Dakshini, General Physician, who said, "Using Sauna blankets will remove the 'easily replaceable water' from the body, as the heat makes one sweat, it will lead to fluid loss. The water/fluid loss is the reason for a lower weight on the scale after a sauna session, which will be regained upon consumption of fluids/liquids. Sauna blankets, if used with clothes on, should not impose any risk, except for those who are insensitive to heat".
Is using a sauna blanket for fat loss safe?
To a certain extent. The heat from the sauna blanket may cause temporary symptoms such as headache, rash, heat exhaustion, dizziness or even dehydration. These symptoms recover within a short span. The use of a sauna blanket is mostly considered non-harmful.
Dr. Kashyap Dakshini recommends that "one should drink sufficient water/liquids to avoid dehydration, low blood pressure, light-headedness at the end of a sauna session."
THIP Media analysed the video and found that the person on the bed was wrapped in three different layers. The videos of sauna blankets on YouTube do not seem to follow the same process.
Social media can often provide conflicting and inaccurate guidance when it comes to weight loss. The diverse opinions and information shared on social platforms can make it challenging to discern what is truly effective and safe. This presents a significant issue, as individuals may end up adopting practices that are detrimental to their health. For example, just like in this story, there is a social media post that says you can lose weight by using foot tablets.
THIP MEDIA TAKE: Sauna blanket can rejuvenate muscles and remove harmful toxins if used under proper guidance. But a single sitting or not following the correct procedure can cause side effects. Also, no evidence confirms sauna blankets can induce weight loss. Hence, the claim has a missing context and is half true until proven otherwise.
Disclaimer: Medical Science is an ever evolving field. We strive to keep this page updated. In case you notice any discrepancy in the content, please inform us at [email protected]. You can futher read our Correction Policy here. Never disregard professional medical advice or delay seeking medical treatment because of something you have read on or accessed through this website or it's social media channels. Read our Full Disclaimer Here for further information.