Are banana peels effective teeth whitening agents?
No, the use of banana peels for teeth whitening is not backed up by any convincing evidence. While they can remove surface stains from teeth and are less dangerous than citrus fruits due to their low acidity, they cannot whiten teeth.
Quick Take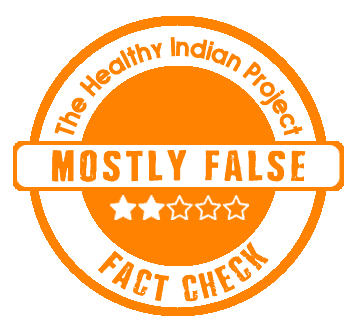 According to a well-liked social media post, banana peels can whiten teeth. We verified the claim. According to our research, the claim is Mostly False.
The Claim
A social media post titled "How to Whiten Your Teeth with Banana Peel" claims that two minutes of rubbing a banana peel against your teeth will noticeably whiten them. The article claims that this is due to the presence of potassium and magnesium, which may be adsorbed by the tooth surfaces and give them a white color.
Fact Check
What causes discoloration of the teeth?
Teeth discoloration can happen for a number of reasons. Common substances like those found in tea and coffee, as well as antibiotics like tetracycline or food dyes, can seep into the teeth. As a result, these stains may endure in the porous structure of the enamel. Smoking contributes to dental discoloration as well because of how tobacco smoke's toxins build up over time. In addition to the gradual erosion of the enamel to reveal the yellow dentin, teeth that are aging tend to become discolored with the accumulation of various stains.
Does using banana peel effectively whiten teeth?
No, there is insufficient evidence. Bananas contain large amounts of potassium as well as vitamins A, B6, C, and D. This high nutritional status promotes the strength of the teeth and soft tissues, as well as the heart, brain, and bones. Bananas' potassium helps increase bone mineral density. Additionally, it collaborates with magnesium to stop the blood from getting too acidic, which could prevent calcium loss from the bones and teeth.
Banana peels do not contain strong enough natural chemicals to bleach teeth, despite being naturally sweet and low in acid, and there is no evidence that rubbing or abrasive action of the peel on the teeth will remove intrinsic stains. A banana peel can be used as a cleanser to help remove surface stains from the teeth.
During our research, we couldn't find any definite evidence that banana peels actually whiten teeth. The minerals in bananas might support dental health, but they are unlikely to whiten a discolored smile.
When we questioned our dental expert, Dr. Pratyasa Bagchi, about the possibility of using banana peels to whiten teeth, she responded that there is no scientific evidence to support the claim. Although banana peels contain phosphorus, iron, calcium, magnesium, and sodium, which could strengthen teeth, the enamel surface does not absorb those minerals because it is as hard as bone. Therefore, from this perspective, it would be difficult to assert that banana peels whiten teeth.
Why do people use natural teeth-whitening remedies?
‍The dental bleaching process lightens your teeth and makes them whiter. Although the procedure can lighten your teeth's color by several shades, it cannot completely whiten them. Commercial teeth-whitening products could be harmful to your teeth. Thus, herbal remedies are consequently growing in popularity.
When compared to hydrogen peroxide or hydroxyl carbamide alone, natural ingredients are known to whiten teeth more safely. These primarily consist of limonene, which has shown great promise for teeth whitening and is a major component of citrus fruit peel essential oils. L-ascorbic acid is another well-known antioxidant that aids in preventing tooth decay, gum disease, and tooth loss. For teeth whitening, this ascorbic acid from organic fruits and vegetables has been recommended as a good substitute for carbamide peroxide or hydrogen peroxide. The vanilla fruit's phtalimido peroxy caproic acid has been shown to contain a substance that can whiten teeth. The fruits of the pineapple and papaya, respectively, contain the mouth-clearing enzymes bromelain and papain. The actinidain found in Kivi fruits can be used to remove dental biofilms.
There isn't much data to back up the use of these natural teeth-whitening methods, though. Due to a lack of knowledge regarding their safe dosage and concentration for human teeth, these cannot be used to whiten teeth.
THIP MEDIA TAKE: Many social media posts suggest rubbing the peel against your teeth for a brief period of time in order to whiten them. Brushing your teeth is still the most efficient method, even though some surface stains may be able to be removed with a banana peel. We draw the conclusion that this assertion is mostly false because banana peels lack any distinctive whitening characteristics.
Disclaimer: Medical Science is an ever evolving field. We strive to keep this page updated. In case you notice any discrepancy in the content, please inform us at [email protected]. You can futher read our Correction Policy here. Never disregard professional medical advice or delay seeking medical treatment because of something you have read on or accessed through this website or it's social media channels. Read our Full Disclaimer Here for further information.