Quick Take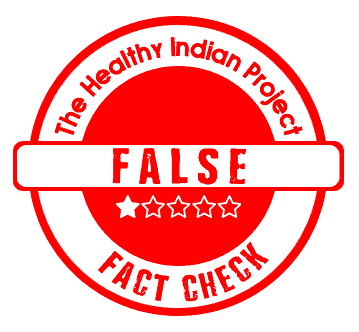 A popular health myth, also being shared by a number of social media users, claims that wearing silver anklets strengthens bones. We fact-checked the same and found that the claim is false.
The Claim
Bone strength increases, "due to the continuous friction generated between the anklets and bones of the feet," claims a number of health articles, blog posts, and social media posts. A search on popular search engines also throws up such articles as answers to questions often asked.
An archived version of a similar blog post can be seen here and a screenshot of a similar search engine result is given below.
Fact Check
Does silver have any importance in health?
Silver has long been used in the medical industry for its antimicrobial properties. Silver has been used for long in wound dressing and on medical devices. Researchers note that "Silver allergy does occur but the extent of the problem is not known."
Silver solutions, popularly called Collodial Silver, have been used in alternative medical treatment. There is some scientific proof of its being antibacterial properties. However, when taken orally for a long time, it can also cause a medical condition called argyria.
Why do bones weaken?
The most common health condition that leads to the weakening of bones is known as osteoporosis. The National Institute of Health (NIH) lists down the two sets of reasons contributing to osteoporosis. The first set, factors that we can control, includes diet, physical activity, body weight, smoking, alcohol, medicines. The second set, factors that we cannot control, includes age, gender, ethnicity, and family history.
Does wearing silver anklets strengthen bones?
No. There is no scientific evidence or basis for this claim.
Most of the claims about silver anklets strengthening bones mention the friction between the anklet and the bones which is absolutely not possible through layers of skin, tissue, and muscles. Further still, friction with any metal, including silver, has no scientific validity for increasing bone strength.
While there are a few alternative treatments of osteoporosis popular across the world, we could not find any that include silver as a treatment medium.
Dr. Anurag Sharma, MS (Orthopaedics) says, "Wearing ornaments have nothing to do with bone health. Even if some of the metal is thought to be absorbed by the body, such topical absorptions are very little and do not reach the bones. They are shed off mostly on daily basis. Also, even if we assume silver is absorbed into bones, it has no role to play in bone health at all. The major component of bone is Calcium, Magnesium and collagen matrix. Bone strength depends on Calcium & Magnesium mostly, with the role of hormones and growth factors playing a crucial role."
Disclaimer: Medical Science is an ever evolving field. We strive to keep this page updated. In case you notice any discrepancy in the content, please inform us at [email protected]. You can futher read our Correction Policy here. Never disregard professional medical advice or delay seeking medical treatment because of something you have read on or accessed through this website or it's social media channels. Read our Full Disclaimer Here for further information.