Is wearing headphones harmful for ears?
To some extent. While headphones can trap moisture and heat, creating a favorable environment for bacteria, there's no scientific evidence supporting a dramatic increase. In-ear headphones can raise the risk of swimmer's ear. Regular cleaning and avoiding prolonged use are recommended. Consult a doctor if you experience ear pain or discomfort.
Quick Take
A social media post claims that wearing headphones for an hour will increase the bacteria in the ear by 700 times. We fact-checked and found this claim to be Half-true.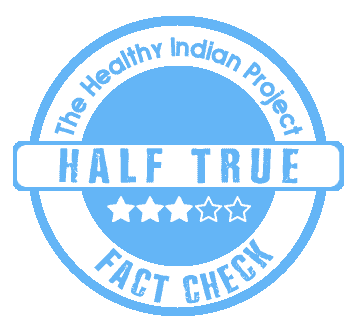 The Claim
A Facebook post shares an image titled, "Did you know" and states, "Wearing headphones for just an hour will increase the bacteria in your ear by 700 times."
Fact Check
Does wearing headphones for an hour increase ear bacteria 700 times?
There is no scientific evidence to suggest that wearing headphones for an hour increases the bacteria in the ear by 700 times. The idea that wearing headphones can lead to a significant increase in bacteria in the ear is not supported by credible research.
Bacteria are naturally present in and around the ear, and their population can fluctuate for various reasons, such as changes in environmental conditions, hygiene practices, and individual factors. However, the use of headphones alone is unlikely to cause such a dramatic increase in ear bacteria.
A study conducted found no incidence of infection of the ear associated with the use of headphones.
However, it is true that wearing headphones can trap moisture and heat in the ear, which can create an environment that is favorable for bacteria growth. This is especially true if the headphones are not cleaned regularly.
A study published in the Online Journal of Health and Allied Sciences found that frequent and constant use of earphones increases bacterial growth in the ear and sharing of earphones might be a potential vector of commensals. 
Also, people who wear in-ear headphones are at a higher risk of developing swimmer's ear, which is an infection of the outer ear canal that is caused by bacteria or fungi when water stays in the ear canal for a long period of time. 
Additionally, cheaper quality or improper use of earphones may give rise to abrasion, leading to breakage of the skin which might be a portal of infection. 
ENT Specialist Dr Priyajeet Panigrahi, MBBS, DNB, and MNAMS, confirms this and states, "Headphones or earphones will never cause an increase in bacteria in the ear unless you use one clean earbud. The bacteria rarely invade through the ear canal in a healthy individual because of natural barriers like thick skin over a bone canal and the presence of wax glands which adhere to all microorganisms. "
So, while wearing headphones does not necessarily increase the amount of bacteria in your ears by 700 times, it is important to clean your headphones regularly and avoid wearing them for long periods of time. You should also see a doctor if you develop any ear pain or discomfort.
How using headphones are harmful to health?
Using headphones is not harmful per se but incorrect and longer use can sometimes harm. The side effects could be as follows:
Noise-induced hearing loss (NIHL). The most serious risk associated with using headphones is

NIHL

. This is a permanent hearing loss that can be caused by exposure to loud noise. The

louder the noise, the shorter the amount of time

it takes to cause hearing loss. The World Health Organization (WHO) recommends that you keep the volume of your headphones

below 85 decibels (dB)

for a 1-hour period.
Tinnitus. It is a

ringing or buzzing sound

in the ears that can be caused by exposure to loud noise. Headphones can be a major trigger for tinnitus.
Pressure damage. Headphones can create a seal in the ear canal, which can

increase the pressure

inside the ear. This can lead to pain and discomfort, and in some cases, it can damage the eardrum.
Skin irritation. Headphones can irritate the skin of the ear canal. This is more likely to happen if you wear headphones for long periods of time or if you use headphones that are not made of a soft, comfortable material.
Some people also believe that

Bluetooth headphones cause cancer

. THIP Media found it to be False.
Dr Panigrahi states, "The use of headphones or earphones is harmful to the ear in the following conditions
A. Using high-volume music for long duration can cause permanent hearing loss.
B. Using hard material earbuds without a soft cover for a long duration causes severe pain in the ear canal.
C. Using it will hinder normal voice from the surroundings, which can be dangerous in traffic causing accidents."
What precautions should be followed while using headphones?
The following precautions should be followed while using headphones:
Keep the volume low.
Avoid using headphones for long periods of time.
Use noise-cancelling headphones to reduce the amount of noise that you are exposed to, which can help to protect your hearing.
Choose over-ear headphones over in-ear headphones.
Clean your headphones regularly.
Do not share your headphones with other people.
If you experience any pain or discomfort, stop using your headphones. If you experience any pain or discomfort in your ears while using headphones, stop using them immediately. See a doctor if the pain or discomfort does not go away.
THIP Media has already fact-checked similar claims around gadgets such as radiation is 1000 times stronger during low phone battery and radiation from Apple AirPods is dangerous.
Disclaimer: Medical Science is an ever evolving field. We strive to keep this page updated. In case you notice any discrepancy in the content, please inform us at [email protected]. You can futher read our Correction Policy here. Never disregard professional medical advice or delay seeking medical treatment because of something you have read on or accessed through this website or it's social media channels. Read our Full Disclaimer Here for further information.