Can fruits be helpful in controlling heart rate?
Fruits have immense health benefits. Still it is recommended to consult your trusted healthcare professional or registered dietician before making any significant changes to your diet. This is especially important if you have any underlying medical conditions or are taking medications that could be affected by dietary changes.
Quick Take
A social media post claims that watermelon controls heart rate. We reviewed the claim. According to our research, the claim is Half True.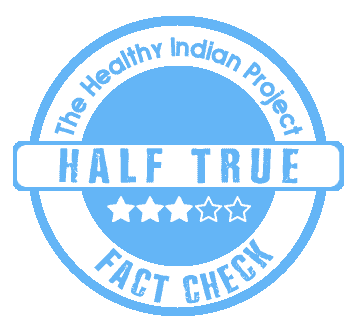 The Claim
An Instagram post by the user fitnesskorner, an image titled, "Why fruits are necessary?" Amongst other claims, a claim reads that watermelon controls heart rate.
Fact check
What is a heart rate or pulse rate?
The pulse rate, which is also referred to as heart rate, is the count of heartbeats per minute. Typically, a healthy resting heart rate ranges between 60 to 100 beats per minute; however, it can fluctuate from moment to moment and intensity of exercise.
Does watermelon help control heart rate?  
Not really. There is no evidence to suggest that eating watermelon has a direct effect on controlling heart rate. Research states that the consumption of watermelon over a period of 7 days has been found to elevate heart rate. This can be attributed to watermelon's impact on blood flow, which is thought to be influenced by the presence of l-citrulline. This ingredient is believed to enhance the activity of the heart by acting on the blood vessels. 
Additionally, l-citrulline is known to stimulate the production of nitric oxide in the body. Nitric oxide helps to relax and expand blood vessels, leading to improved blood flow and reduced blood pressure. This is similar to how the erectile dysfunction drug Viagra works, which also helps to increase blood flow by stimulating nitric oxide production. Therefore, consuming watermelon can potentially lead to improved cardiovascular health by promoting better blood flow and reducing blood pressure. However, if a person is suffering from certain conditions which cause bradycardia (low heart rate) or tachycardia (increased heart rate), then they need to consult a medical expert in order to deal with the condition. In such cases, solely relying on dietary modifications wouldn't be sufficient and can delay prompt treatment. The doctor might need specific maneuvers, medication, cardioversion or surgery to control a rapid heartbeat. Similarly, in order to control bradycardia, the patient might need certain lifestyle changes, medication, and/or a pacemaker to control the condition.
Can individuals with heart disease safely consume watermelon?
Certainly! Individuals with heart disease can consume watermelon as part of a healthy and balanced diet, but it should not be relied upon as the sole factor in controlling heart rate. It is important to view watermelon as one component of an overall healthy diet rather than a singular solution to manage heart rate or any other medical condition.
Is it advisable to consume watermelon every day?
Yes. Watermelon is a nutritious fruit that can provide health benefits when consumed in moderation. However, excessive consumption of watermelon, especially those with high levels of lycopene, may lead to intestinal discomforts such as nausea, diarrhea, indigestion, and bloating. Additionally, people with diabetes should be mindful of the natural sugar content in watermelon and consume it whole rather than as juice to avoid spiking their fasting blood sugar levels. It's also important to watch portion sizes.
Furthermore, it's important to be cautious of watermelon that has been artificially enhanced with sweeteners and colourings. Some vendors inject watermelon with chemicals, which can produce bacterial colonies like E coli that cause illness.
Disclaimer: Medical Science is an ever evolving field. We strive to keep this page updated. In case you notice any discrepancy in the content, please inform us at [email protected]. You can futher read our Correction Policy here. Never disregard professional medical advice or delay seeking medical treatment because of something you have read on or accessed through this website or it's social media channels. Read our Full Disclaimer Here for further information.