Quick Take
A social media post claims that Vitamin B17, found in apricot seeds, is banned because it kills cancer cells. We fact-checked and found this claim to be Mostly False.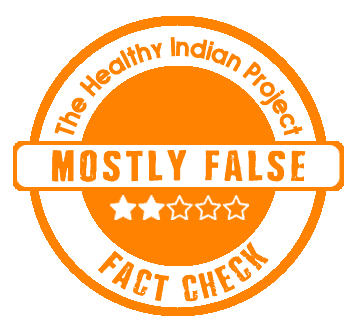 The Claim
A Facebook post reads, "Vitamin B17 is banned because it kills cancer cells. Found in apricot seeds. Crack open the pot, and the seed is inside!"
Fact Check
What is Vitamin B17?
Vitamin B17 is a substance that was once believed to be a vitamin but is not actually an essential nutrient for humans. However, it is actually not approved as a vitamin and is a drug derived from plant substances. It is a name given to a substance called amygdalin or 'laetrile' and is found in the seeds of some fruits, including apricots, and peaches, as well as in bitter almonds and some other plant foods. Amygdalin was originally isolated in 1830 by two French chemists. It is a cyanogenic glycoside which naturally formed in plants.
Does Vitamin B17 kill cancer cells?
Not exactly. There is not enough reliable scientific evidence that Vitamin B17 or amygdalin can kill cancer cells. Although laboratory or animal experiments suggest anticancer properties, clinical evidence does not support this use.
Lamygdalin or vitamin B17 or Laetrile is promoted as an alternative cancer treatment. Several research found no benefit, while others suggest the chemical has a slight effect on certain kinds of cancer cells. However, there is a lack of evidence that it actually works. In fact, it is even banned by the Food and Drugs Agency (FDA).
Hydrogen cyanide is considered to be the main anticancer compound formed from laetrile via in situ release. But, there is no evidence for its efficacy. Also, due to possible cyanide poisoning, laetrile can be dangerous.
It also has serious side effects, such as hypotension, liver damage, difficulty walking (caused by damaged nerves), fever, coma, and death. It has been linked to several cases of cyanide poisoning in cancer patients as laetrile toxicity mirrors cyanide poisoning.
Dr. Sarthak Moharir, Chief Radiation Oncologist at Apollo Cancer Centre, Bilaspur, comments on this by stating, "Vitamin B17 and its cancer-killing property is nothing but a HOAX. Apricot seeds and Bitter Almond seeds contain a chemical called Amygdalin/Laetrile which is misleadingly called Vitamin B17 by some people. It's not a vitamin at all. Amygdalin is a cyanogen glycoside, which is a natural plant toxin. It converts to cyanide inside the body and can cause cyanide poisoning. 
In conclusion, consuming Laetrile/Amygdalin is not beneficial to any human, cancer patient or not, because it can cause cyanide poisoning and, in worst cases, death."
In a nutshell, well-planned clinical trials are still needed to be conducted to prove the effectiveness and to get approval for human use. Until then, the claim stands mostly false.
Disclaimer: Medical Science is an ever evolving field. We strive to keep this page updated. In case you notice any discrepancy in the content, please inform us at [email protected]. You can futher read our Correction Policy here. Never disregard professional medical advice or delay seeking medical treatment because of something you have read on or accessed through this website or it's social media channels. Read our Full Disclaimer Here for further information.