Quick Take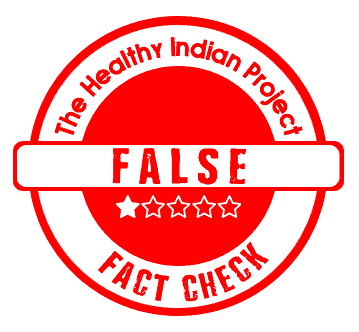 A social media post claims that due to the presence of carrageenan, At Tom's of Maine's toothpaste can cause cancer. We fact-checked and found this claim to be False.
The Claim
An Instagram post shares a video of a woman saying, "OK, all the moms need to know about this toxic toothpaste that you think is so great because it says right on it, 'Fluoride-free, natural toothpaste.' You go to the ingredients. The main ingredient on this toothpaste is carrageenan. Cancer!"
Fact Check
What is Carrageenan?
Carrageenan is a common food additive extracted from red edible seaweeds. It is used to thicken, emulsify, and preserve foods and drinks. The safety of carrageenan's is a debatable matter. Few scientists consider it to be a toxic substance, while other experts have refuted the claims. Carrageenan's are considered safe when consumed in quantities necessary to provide the desired food texture achieved by common processing/manufacturing practices. However, other scientists claim that degraded carrageenan can pose a carcinogenic risk and can cause colonic ulcerations and gastrointestinal neoplasms. However, the study was done on animals.
Can Tom's of Maine's toothpaste cause cancer?
No. There is a lack of scientific evidence that proves that Tom's of Maine's toothpaste can cause cancer. It's true that Tom's of Maine toothpaste indeed contains Carrageenan as an ingredient to thicken it, but it clearly states that it is cooked, rinsed, soaked and filtered. 
The U.S. FDA's Select Committee on GRAS Substances categorises Carrageenan as a 'Type of Conclusion 3', which means, "While no evidence in the available information on [substance] demonstrates a hazard to the public when it is used at levels that are now current and in the manner now practiced, uncertainties exist requiring that additional studies be conducted."
Certain animal studies associate the link between degraded carrageenan and cancer. However, no evidence proves the presence of degraded carrageenan in Tom's of Maine's toothpaste.
Also, contradicting the claim, another research concluded that Carrageenan is found to have anti-cancer properties and can be a potential chemotherapeutic or chemo preventive agent as it can improve immunity and target key apoptotic molecules.
Therefore, the claims stand false until proven otherwise.
Disclaimer: Medical Science is an ever evolving field. We strive to keep this page updated. In case you notice any discrepancy in the content, please inform us at [email protected]. You can futher read our Correction Policy here. Never disregard professional medical advice or delay seeking medical treatment because of something you have read on or accessed through this website or it's social media channels. Read our Full Disclaimer Here for further information.