Quick Take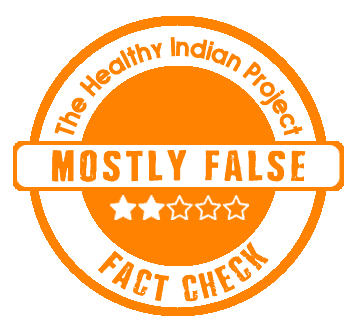 A viral message by a number of social media users claims that the health officials are now claiming that the Delta variant will impact the age group of 12 to 20 because it's "convenient." We fact-checked and found that the claim is Mostly False. As per experts, the Delta variant of the Coronavirus is reportedly the most contagious mutated version of the virus and it is likely to affect the younger generation. It is not a ploy to get people vaccinated.
The Claim
The claim by the social media users reads, "So they're saying that the "delta variant" is a covid variant that affects young people aged 12-20…How convenient is that? They want to jab the 12-20 year olds in September and here comes along a "new variant" out of nowhere that affects that age group…. lol ….It's not nice to insult people's intelligence but – if you believe that then there's no hope"
The same message has been published by multiple users on Facebook and Twitter which can be seen here, here, and here.
A snapshot of a similar message is given below:
Fact Check
What is Delta Variant of Coronavirus?
The Delta variant is a muted variant of the Novel Coronavirus that is causing the COVID-19 pandemic. The variant was first identified in India in March 2021, Delta is now the dominant variant in the U.S. and accounts for more than half of new infections, according to the latest data from the Centers for Disease Control and Prevention (CDC).
CDC director Rochelle Walensky during a press briefing presented data showing that the Delta is responsible for more than 50 percent of new COVID-19 cases, up from 26 percent the week ending June 19.
As per various reports, this particular virus variant has spread to more than 90 countries and is also the most dominant variant in India, the United Kingdom, and Russia .
Some research shows that the Delta variant is 60 percent more transmissible than the Alpha variant.
Who said Delta variant affects '12 to 20 years' age group? Is it true?
US President, Joe Biden, in a tweet said Delta variant 'is spreading rapidly among young people between 12 and 20 years old in U.K.
However, we could not find any study or any data that supported the Delta variant is particularly spreading in the 12 to 20 years age group. There was no specific data released by CDC about this too.
However, a number of immunologists and epidemiologists have suggested that the spread of the Delta variant will affect the younger generation more.
Dr Kerry Chant, Chief Health Officer, New South Wales, Australia has reportedly warned that the Delta variant will spread more among the younger generation.
Prof Cassandra Berry, a researcher of viral immunology at Murdoch University, said that considering the Delta mutations are more transmissible, there is a huge chance that the younger population will be more at risk now.
However, the Delta variant may not disproportionately affect ONLY children, finds recent research done by World Health Organization and the All India Institute of Medical Sciences on India's projected third wave.
Are vaccinated people safe against the Delta variant of Coronavirus?
There are multiple ongoing studies to test the efficacies of the existing vaccines on the new Delta variant. Some studies show a complete dose of a COVID-19 vaccine is still effective at preventing serious illness from Delta infection. Another study published in the New England Journal of Medicine showed that both the Moderna and Pfizer-BioNTech mRNA vaccines will likely protect against Delta, though not as well as they did with previous variants.
Some researches have shown that a complete dose of a COVID-19 vaccine is still effective at preventing serious illness from Delta infection.
Studies done by the Indian Council of Medical Research (ICMR) and the National Institute of Virology (NIV) have also shown that for people who had both doses of COVISHIELD or COVAXIN, "results in less severe disease" when contracted with the virus.
But that said, a study published in the Nature journal showed that people with a single shot of the vaccine 'barely' had any protection against the Delta variant of the virus.
---
Disclaimer: Medical Science is an ever evolving field. We strive to keep this page updated. In case you notice any discrepancy in the content, please inform us at [email protected]. You can futher read our Correction Policy here. Never disregard professional medical advice or delay seeking medical treatment because of something you have read on or accessed through this website or it's social media channels. Read our Full Disclaimer Here for further information.