Is eating cheese an addiction like drugs/alcohol?
Cheese does contain Casein, and during its digestion, it releases casomorphins, which may be a mild addictive agent, but there is no scientific evidence that proves that cheese is addictive or the brain reacts to it the same way as it does to addictive agents, such as drugs or alcohol.
Quick Take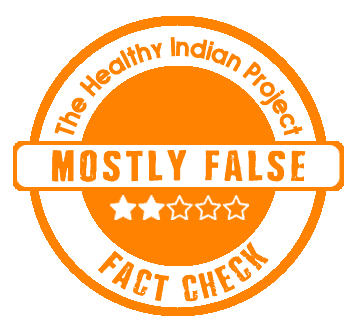 A social media post claims that when you eat cheese, the protein in it is called casein, mixes with stomach acid and produces a highly addictive opiate called casomorphin that works just like drugs, alcohol, and sex and is very addicting. We fact-checked and found this claim to be misleading and is, therefore, Mostly False. Cheese does contain mildly addictive substances, but it doesn't have the same psychological effects and does not cause addiction.
The Claim
An Instagram post by Pedi Miramandi claims that when you eat cheese, the protein in it is called casein, mixes with stomach acid and produces a highly addictive opiate called casomorphin that works just like drugs, alcohol, and sex and is very addicting.
Fact Check
What is Addiction?
The National Institute on Drug Abuse defines addiction as "a chronic disease characterized by drug seeking and use that is compulsive, or difficult to control, despite harmful consequences." The NHS defines addiction as not having control over doing, taking or using something to the point where it could be harmful to you.
What is Food Addiction?
As already stated by THIP Media, Food Addiction is believed to be a type of behavioural addiction in which a person becomes addicted to food. There is a compulsive consumption of palatable food high in fat and sugar (mostly junk food) irrespective of the adverse consequences. The consumption of such food items can trigger a chemical reaction in the brain that induces a certain feeling of satisfaction and pleasure.
The probable causes are considered stress, trauma, abnormal brain chemistry, and emotional imbalance. It can lead to various consequences, such as cardiovascular diseases, digestive issues, obesity, diabetes, depression, reproductive problems, osteoarthritis, high blood pressure, stroke, etc.
What is Casein?
Casein is a protein that is found in dairy products. It is considered to be the chief source of protein in milk, yogurt and cheese. It is commonly used in its isolated form as a dietary supplement in the form of protein powder by bodybuilders. It can also be found in dairy-based baby formula.
Does the consumption of cheese cause addiction?
Not exactly. The claim that the consumption of cheese causes addiction lacks scientific research and evidence. There are certain food items that are difficult to limit by some people, but that can't be termed as addiction. Food addiction is still under research.
There is no consensus on whether the food addiction concept is like a substance addiction (e.g., tobacco) or a non-substance addiction (e.g., gambling).
When Casein (present in cheese) is broken down during digestion, it releases substances called casomorphins. Casomorphins are considered to be any opioid released from casein during digestion. When opioids attach or bind to the dopamine receptors present in the nervous system, interactions trigger chemical changes that can create sensations of pleasure or pain relief. However, research done on rats that studied the potential addiction of beta-casomorphin concluded that "systemically administered beta-casomorphin has very limited or no reinforcing properties similar to those of morphine. Ingestion of milk products containing beta-casomorphin is not likely to become the focus of an addiction."
Additionally, studies have indicated that casomorphin may have anticancer and antioxidant properties. Although, further research is needed to reach conclusive results. But, it must be noted that overconsumption of cheese can still lead to adverse health effects.
Voomika Mukherjee, Health & Nutrition Life Coach, states, "Food cravings aren't the same as addictions, and also, there is no such scientific evidence that quotes cheese as addictive. Let's understand why people tend to eat more cheese, especially for breakfast. Cheese contains casein, a dairy protein that releases casomorphins, which are plant compounds that trigger dopamine production in your brain. Also, we get massive concentrations of fat and salt, which our highly evolved brain continues to love. Combine this with the opioid-like casomorphins, and then cheese suddenly goes from 'very delicious' to 'obscenely tempting'.
Also, Serotonin [the 'feel-good hormone'] which is manufactured in the body from the amino acid tryptophan, is found in several foods, including dairy products – and cheese is a particularly good source."
THIP Media Take: Food cravings are considered different from addiction. Further research is needed to find a definitive result, and until then, the claim stands mostly false until proven otherwise.
Disclaimer: Medical Science is an ever evolving field. We strive to keep this page updated. In case you notice any discrepancy in the content, please inform us at [email protected]. You can futher read our Correction Policy here. Never disregard professional medical advice or delay seeking medical treatment because of something you have read on or accessed through this website or it's social media channels. Read our Full Disclaimer Here for further information.