Quick Take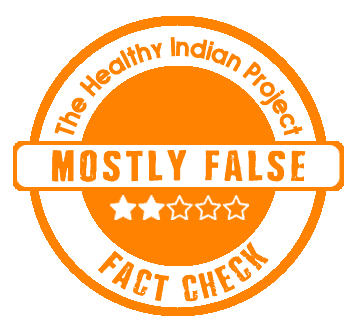 After a (2022) research studied the effects of COVID-19 mRNA vaccine BNT162b2, developed by Pfizer and BioNTech, on the human liver cell line in an artificial environment, several social media users have claimed that mRNA Covid vaccines can change DNA. We fact-checked and found the claim to be Mostly False.
The Claim
MDPI published a research paper in (2022) titled, "Intracellular Reverse Transcription of Pfizer BioNTech COVID-19 mRNA Vaccine BNT162b2 In Vitro in Human Liver Cell Line". The paper was based on another (2021) research published in PNAS journal titled, "Reverse-transcribed SARS-CoV-2 RNA can integrate into the genome of cultured human cells and can be expressed in patient-derived tissues".
Multiple articles published online have claimed mRNA vaccines alter human DNA and have attracted a response by several social media users.
Referring to one such article, a Facebook user wrote, "a new study from Sweden published in the Current Issues of Molecular Biology says messenger RNA (mRNA) from Pfizer's COVID vaccine is able to enter human liver cells and is converted into DNA. This process happens as fast as SIX HOURS after getting v@cc1nated".
A Twitter user wrote, "BOMBSHELL: Biological Study PROVES Pfizer mRNA Vaccine Permanently Alters Human DNA".
Fact Check
Does Pfizer COVID-19 vaccine permanently alter human DNA?
No evidence confirms Pfizer COVID-19 vaccine permanently alters human DNA. The Lund University-based (2022) MDPI research paper is the first-of-its-kind study that showed the vaccine enters liver cells as early as 6 hours after it was administered. Also, DNA inside human cells was converted from the mRNA vaccine.
As this result started getting attention on social media for all wrong reasons, Lund University decided to address misinformation around the research paper. On March 10, 2022, two authors of the MDPI research paper answered a few questions which got published on the Lund University website.
One of the authors said, "These findings were observed in petri dishes under experimental conditions, but we do not yet know if the converted DNA is integrated into the cells' DNA in the genome – and if so, if it has any consequences". This author also claimed, "cell lines differ from cells in living organisms, and therefore it is important that similar investigations are also studied in humans".
While another author said, "One of the limitations of our study is that we don't know if what we observed in this cell line could also happen in cells of other tissue types, and this needs to be addressed in follow-up studies".
The Healthy Indian Project (THIP) has shown the MDPI research paper is flawed in many ways and has discussed the results of this paper in detail.
Disclaimer: Medical Science is an ever evolving field. We strive to keep this page updated. In case you notice any discrepancy in the content, please inform us at [email protected]. You can futher read our Correction Policy here. Never disregard professional medical advice or delay seeking medical treatment because of something you have read on or accessed through this website or it's social media channels. Read our Full Disclaimer Here for further information.