Quick Take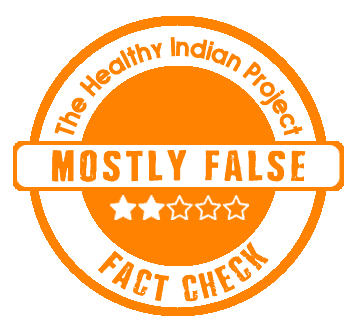 A TikTok video claims lack of oxygen causes cancer so, oxygen or ozone therapy kills cancer cells. We fact-checked and found the claim to be Mostly False.
The Claim
A TikTok video shows a professional claiming, "Oxygen kills cancer" and "Otto Warburg won two Nobel Prizes for proving that the cause of cancer was anaerobism or lack of oxygen and he cured thousands and thousands of people and documented in scientific research journals".
The video has gathered 41.9k shares on TikTok and 2.8k shares on Facebook.
Fact Check
Can oxygen kill cancer?
It does not seem so. There is no scientific evidence that confirms oxygen or ozone therapy kills cancer cells. The Foods and Drug Administration (FDA) website states, "Ozone is a toxic gas with no known useful medical application in specific, adjunctive, or preventive therapy. In order for ozone to be effective as a germicide, it must be present in a concentration far greater than that which can be safely tolerated by man and animals".
Dr Manish Singhal, Senior Oncologist, Apollo Hospital, says, "Exposure to oxygen will not cause cancer to spread to other parts of the body. Likewise, a lack of oxygen does not kill cancer cells."
The available research papers only speculate that ozone therapy affects cancer cells. Further studies are needed to elucidate the mechanism and quantity of ozone that can have a positive impact on cancer patients. However, Hyperbaric oxygen treatment may help with increasing oxygen in cancer cells to prepare them for radiotherapy or chemotherapy in some scenarios. This treatment may slow the growth of cancer cells in some situations.
For which discovery Otto Warburg received the Nobel prize?
Otto Warburg received only one Nobel Prize "for his discovery of the nature and mode of action of the respiratory enzyme". He never proved the cause of cancer was the lack of oxygen.
How cells obtain energy?
Cells obtain energy through cellular respiration. Cellular respiration transforms glucose into energy within cells. This energy is stored in the adenosine triphosphate (ATP) molecules to power all cellular processes.
Cellular respiration can occur in two ways: aerobic respiration and anaerobic respiration. In aerobic respiration, cellular respiration takes place in the presence of oxygen. While in anaerobic respiration, cellular respiration takes place in the absence of oxygen. It is the anaerobic respiration that leads to various essential processes like glucose fermentation, lactate and ATP production.
Otto Warburg first observed cancer cells rely on glucose fermentation even in the presence of oxygen which is not the case with normal cells. This process is called aerobic glycolysis because the fermentation occurs in the presence of oxygen. Moreover, this switch in the metabolic process is called the Warburg effect. But it is still not clear why cancer cells undergo this change. Although it is believed that the Warburg effect favours the growth of cancer cells, the available evidence suggests that cancer is caused by genetic mutations that induce the Warburg effect. These genetic mutations can occur due to heredity and environmental factors. As these risk factors have different mechanisms of action, it is clear that lack of oxygen is not the root cause of cancer. Therefore, the claim stands mostly false.
Disclaimer: Medical Science is an ever evolving field. We strive to keep this page updated. In case you notice any discrepancy in the content, please inform us at [email protected]. You can futher read our Correction Policy here. Never disregard professional medical advice or delay seeking medical treatment because of something you have read on or accessed through this website or it's social media channels. Read our Full Disclaimer Here for further information.