Quick Take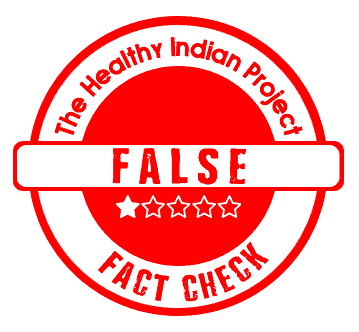 Various social media posts claim that McDonald's ice cream contains Xylitol which is toxic to dogs. We fact-checked and found this claim to be False.
The Claim
A social media post reads, "Pet warning! McDonalds has added xylitol to their ice cream. Xylitol is deadly to dogs! Please do not allow your pets to eat their ice cream!" It reached as many as 16k shares on the platform.
A similar post reads, 'Just so everyone knows. Mcdonald's ice cream has xylitol sugar in it. Don't feed any of their ice cream to your pets. Xylitol sugar is toxic to dogs and will kill them in an hour. Please…" It can be seen here.
The misinformation reached almost every social media platform namely Facebook, Twitter, and Instagram.
Fact Check
What is Xylitol?
Xylitol is a sugar alcohol found in various fruits and vegetables. It tastes like sugar but has fewer calories and a low glycemic index. It doesn't raise the blood sugar levels much. Therefore, it is used as a sugar substitute in various substances such as chewing gum, mints, candies, etc. It is known to reduce the risk of tooth decay.
Is Xylitol toxic to dogs?
Yes. Xylitol is known to be highly toxic to dogs. The FDA states, "Xylitol is present in many products and foods for human use but can have devastating effects on your pet."
It is advised to consult a veterinarian if your dog consumes Xylitol immediately. Veterinary hospitals recommend that even small amounts of xylitol can cause hypoglycemia (low blood sugar). If consumed in large volume, it leads to seizures, liver failure, or even death in dogs.
Our Veterinary expert Dr. Vivek Arora (B.V.Sc. & AH, MIVIS) explains, "Xylitol is toxic to dogs and severity is dependent upon dosage ingested. Owners must realize the sources of xylitol such as gums, candies, peanut butter, vitamins, deodorants, and sugar-free syrups are common sources of toxicity. The treatment involves neutralizing hypoglycemia and monitoring sugar levels, which should be monitored for 24-48 hours. Liver medication is given to counter liver damage. Also, a common myth that charcoal is helpful in treating Xylitol toxicity is not true."
Does McDonald's ice cream contain Xylitol?
No. There is no evidence that suggests McDonald's ice cream contains xylitol. The ingredients present in McDonald's ice cream can be read on their website. The elements in a vanilla cone include Milk, Sugar, Cream, Corn Syrup, Natural Flavor, Mono and Diglycerides, Cellulose Gum, Guar Gum, Carrageenan, Vitamin A Palmitate.
McDonald's has even posted about this misinformation on Twitter to confirm no xylitol in their ice cream.
Disclaimer: Medical Science is an ever evolving field. We strive to keep this page updated. In case you notice any discrepancy in the content, please inform us at [email protected]. You can futher read our Correction Policy here. Never disregard professional medical advice or delay seeking medical treatment because of something you have read on or accessed through this website or it's social media channels. Read our Full Disclaimer Here for further information.