Quick Take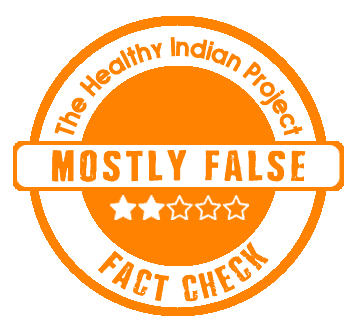 According to a YouTube video, food irradiation is a key factor in the development of cancer. We verified the accuracy of the claim. Analysis revealed that the assertion is Mostly False.
The Claim
A YouTube video with the title "Food irradiation, another disturbing fact in your diet that causes cancer", asserts that irradiated food is carcinogenic. The video has been shared below.
Fact Check
What specifically are irradiated foods?
Food irradiation slows the pace at which food ages. This includes the sprouting of fruits and vegetables. and the preservation of grains and spices for a longer time. This helps the shipping of grains and spices over great distances. Thus, it has been developed to address the major issue of food storage.
There are three types of radiation that can be used to irradiate food. These include gamma rays, electron beams, and x-rays. The same principle governs the three approaches. Food is transported on a conveyor belt while being passed through a radiation chamber and a radiation beam. Ionizing radiation emits enough energy to cause the chemical bonds of bacteria or molds to disintegrate by destroying the bacteria or preventing them from proliferating. Thus, the procedure reduces rotting and even food-borne sickness. However, it must be emphasized that irradiating food does not make it radioactive.
Is irradiating food a safe practice?
Yes, but only when employed within authorized parameters. Thorough research has been done on the procedure's safety more than on any other food industry technology. Irradiation has a greater impact on living things that include DNA and/or RNA but has little effect on items that contain macronutrients. Irradiation has no impact on the nutritional value of proteins, lipids, or carbohydrates. However, evidence exists that suggests vitamins may be both vulnerable and sensitive to irradiation. A few of these vitamins, such as biotin, pyridoxine (B6), and riboflavin (B2), are frequently stable, although others, such as thiamin (B1) and vitamins A, C, and E, are unpredictable.
Please remember that irradiation should not be used in place of proper food control practices. Irradiated food needs to be handled, stored, and prepared the same way as organic food. If safeguards are not taken, they could still become contaminated with pathogens.
Can consuming irradiated food cause cancer?
No, not for now. Though it has been claimed that irradiation alters food unfavorably and can also damage important minerals like vitamins. Radiolytic products, also known as novel compounds, are produced as a result of food irradiation. These byproducts might cause mutations and may consequently have a role in the development of cancer. Additionally, it is thought that irradiation of foods alters and even damages foods' flavor, odor, look, and texture. Additionally, the authorized bodies always regulate the irradiation parameters. Our research, however, was unable to uncover any evidence to back up these allegations.
We asked Dr Sarthak Moharir, Radiation Oncologist, HCG Cancer Centre, Vadodara, about the potential risk of consuming irradiated food for cancer. He responded that, "Packaged goods and medical equipment like needles are actually sterilized by extraordinarily high radiation doses. As a result, radioactivity is not retained in irradiated foods or plastics. So, consuming irradiated food won't make one develop cancer."
THIP MEDIA TAKE: Food irradiation is a versatile approach. The method involves eliminating potentially dangerous biological organisms from food. By prolonging shelf life, food irradiation offers the opportunity to improve food quality and microbiological safety. As a result, we draw the conclusion that the assertion is mostly false.
Disclaimer: Medical Science is an ever evolving field. We strive to keep this page updated. In case you notice any discrepancy in the content, please inform us at [email protected]. You can futher read our Correction Policy here. Never disregard professional medical advice or delay seeking medical treatment because of something you have read on or accessed through this website or it's social media channels. Read our Full Disclaimer Here for further information.