Quick Take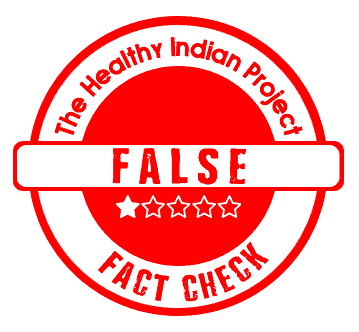 A social media post claims that drinking hot coconut water kills cancer cells. We fact-checked and found the claim to be False.
The Claim
A Facebook post claims, 'Hot Coconut Water Please Continue: Dr. Rajendra A. Badwe TATA Memorial Hospital emphasized that if everyone who received this leaflet could send ten copies to others, at least one life would be saved. … I'm already done my part, I hope you can help too. Your part. thank you! Hot coconut water can save you a lifetime Check it out again, then tell others, spread the love! Hot coconut kills only cancer cells! Cut 2 or 3 thin coconut slices into a cup, add hot water, it becomes "alkaline water", drink daily, it is good for anyone. Hot coconut water releases an anti-cancer substance, the latest breakthrough the treatment of cancer in the medical field. Hot coconut juice has an effect on nuts and seeds. Proven as a cure for all types of cancer. This type of treatment with coconut extract destroys the deadly cells and does not affect the. In addition, the amino acid and coconut polyphenols in coconut juice can help regulate high blood pressure, effectively prevent deep vein thrombosis, regulate blood circulation and reduce blood clotting. After reading, tell others, family, friends, spread love! Take care of your health'.
Fact Check
Does hot coconut water kill cancer?
No evidence confirms coconut water kills cancer. Also, no evidence confirms Dr Rajendra A. Badwe from TATA Memorial Centre has suggested and recommended the recipe as mentioned in the Facebook post. On the contrary, the TATA Memorial Centre has confirmed that the claim that went viral on social media is fake and curated only to spread misinformation.
Cancer is the conversion of healthy cells into toxic and profuse multiplication of toxic cells that spreads from one location to other parts of the body. The Healthy Indian Project (THIP Media) has discussed cancer cell growth in detail here.
The available treatment to kill cancer cells include surgery, chemotherapy, radiotherapy, cancer drugs, hormone therapy, stem cell and bone marrow transplant, targeted cancer drugs, immunotherapy, personalised allopathic medicines, bisphosphonates, complementary and alternative therapies etc.
While searching if coconut water has anti-cancerous properties, we found a few studies that showed coconut water might possess therapeutic and chemopreventive effects that may inhibit cancer cell growth. However, it does not mean coconut water can kill cancer cells.
Oncologist Dr Manish Singhal states, "Coconut water is very good for the body as it helps keep you hydrated. But making it hot and then drinking it does not kill cancer cells. We do not recommend this absurd practice".
Listen what the expert says in detail here:
THIP MEDIA TAKE: Dr Rajendra A. Badwe from TATA Memorial Centre never claimed that hot coconut water kills cancer cells. On the contrary, the TATA Memorial Centre has stated that its doctor never claimed anything like this. Following such a practice may take some people away from the required treatment.
Disclaimer: Medical Science is an ever evolving field. We strive to keep this page updated. In case you notice any discrepancy in the content, please inform us at [email protected]. You can futher read our Correction Policy here. Never disregard professional medical advice or delay seeking medical treatment because of something you have read on or accessed through this website or it's social media channels. Read our Full Disclaimer Here for further information.