Quick Take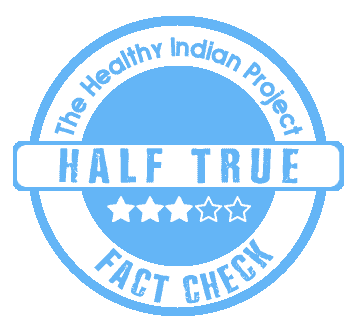 A social media post claims that hair dye causes cancer. We fact-checked and found this claim to be Half-true.
The Claim
A post on Twitter reads, "Cosmetic industry thwarts safety, environment and reproductive harm issues, with political payoffs because sellers have increased and hair dye causes cancer." The post can be seen below.
Fact Check
What are the causes of Cancer?
According to the Indian Cancer Society, " Though it is very difficult to pinpoint the definite cause. Certain substances, known as carcinogens, can definitely increase your chances of getting cancer…..Continued irritation of tissues can lead to cancer. Pollution, preserved food, smoked and junk food are also contributory. Even certain viruses can cause cancer (EBV, Hepatitis B, HPV). Amongst other known causes are asbestos, arsenic, pitch, tar, and ultra-violet rays."
How are cosmetics regulated?
Cosmetic products undergo various regulations. In the USA, the Food and Drug Administration (FDA) regulates the safety of cosmetics, including hair dyes and if any cosmetics are found to be in violation, then action can be taken against them.
In India, the Central Drugs Standard Control Organization (CDSCO) under the provisions of the Drugs and Cosmetics Act, 1940 and the Cosmetics Rules, 2020. CDSCO is the main regulatory authority for the cosmetics industry. The Drugs Controller General (India) functions as the Central Licensing Authority grants the Import Registration Certificate and regulates the import of cosmetics.
Does Hair dye cause cancer?
No. There is no conclusive research evidence regarding this matter. The current research findings are contradictory in nature.
A 1993 International Agency for Cancer Research (IARC) review concluded that evidence was inadequate to evaluate the carcinogenicity of personal hair dye use. Another study concluded that they found no evidence of an association between personal use of hair dye and cancer risk but the researchers mentioned that "significantly increased risk for ovarian cancer was associated with long-term hair dye use (≥20 years), but the result was based on a very small number of cases."
The American Cancer Society has stated, " The NTP(National Toxicology Program) has not classified exposure to hair dyes as to its potential to cause cancer. However, it has classified some chemicals that are or were used in hair dyes as "reasonably anticipated to be human carcinogens."
Harvard Health states, "Occupational exposure to hair dye, as experienced by hairstylists, has been classified as probably cancer-causing. However, it remains unclear whether personal use of permanent hair dyes increases the risk for cancer or cancer-related death." The findings of various researches are not conclusive. It further clarifies this by stating, "Conflicting findings have resulted from imperfect studies due to small study populations, short follow-up times, inadequate classification of exposures (personal or occupational) or hair dye type (permanent versus non-permanent), and incomplete accounting of cancer-specific risk factors beyond permanent hair dye use."
Consultant Dermatologist, Dr. Jyothy Kannangath, further explains this by stating, "Over 5,000 different chemicals are used in hair dye products, some of which are reported to be carcinogenic (cancer-causing) in animals. Early hair dye formulations contained chemicals, including aromatic amines that were found to cause cancer in animals. In the mid-to-late 1970s, however, manufacturers changed the components in dye products to eliminate some of these chemicals. It is not known whether some of the chemicals still used in hair dyes can cause cancer.
Although some studies have linked the personal use of hair dyes with increased risks of certain cancers, other studies have not shown such links. Studies of breast and bladder cancer have also produced conflicting results. Relatively few studies have been published about the association of hair dye use with the risk of other cancer. We could conclude that personal use of hair dyes is not classifiable as to its carcinogenicity to humans. Moreover, the risk is high for hairdressers who come in contact with these products more frequently than the people who use hair dyes."
In conclusion, the results of various studies are still inconclusive. The risk of cancer appears to be affected by the period of use and specific genetic polymorphisms. Not everyone who used hair dye had cancer. There have been a few cases, but there are various factors such as timing, duration, frequency and type of hair dye product use are needed to be taken into account. Potential gene and environment interaction must be studied to assess possible genetic susceptibility. Therefore, further research is needed to withdraw conclusive results.
Disclaimer: Medical Science is an ever evolving field. We strive to keep this page updated. In case you notice any discrepancy in the content, please inform us at [email protected]. You can futher read our Correction Policy here. Never disregard professional medical advice or delay seeking medical treatment because of something you have read on or accessed through this website or it's social media channels. Read our Full Disclaimer Here for further information.