Quick Take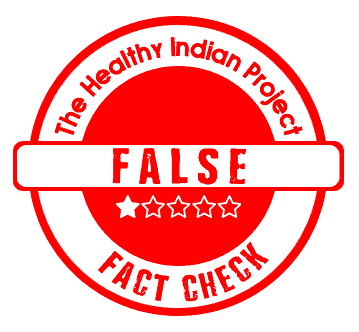 A social media post claims that if a banana has a green stalk with brown spots on it, then show that it was chemically ripened and if the stalk is black, then it means that it ripened naturally. We fact-checked and found this claim to be False.
The Claim
A Facebook post reads, " Buying ripe bananas. Green stalk with brown spots means they were chemically ripened. Black stalk.. naturally ripened."
Fact Check
Does a banana with green stalk and brown spots prove it to be chemically ripened?
No, the presence of a green stalk ot bown spots on a banana does not necessarily indicate that it has been chemically ripened. It is not possible to visually analyze that a banana or any other fruit has been chemically ripened. Some bananas are picked when they are still green and then allowed to ripen naturally during transportation and storage. These bananas may have a green stalk when they are purchased, but they have not been chemically ripened.
When bananas ripen, their starches break down into sugars, making them sweet and better to eat. Its true that certain chemicals are sometimes used to accelerate the ripening process. Ethylene gas, acetylene gas liberated from calcium carbide, and ethephon are some of the commercial ripening agents used.
According to studies, bananas treated with chemicals to induce ripening show no significant difference in biochemical composition and sensory quality compared to naturally ripened bananas. However, naturally ripened bananas are generally regarded as having superior sensory characteristics when compared to chemically treated fruits. But, there is no visual test to assess if a banana has been chemically treated or naturally ripened.
Moreover, the spot patterns on bananas are a striking case of biological pattern formation and as a qualitative ripeness indicator. Bruising on bananas happen as ripening advances and they become progressively softer and will readily bruise if handled improperly. 
According to Japanese Scientific Research, fully ripe banana with dark patches on yellow skin produces a substance called TNF (Tumor Necrosis Factor) which has the ability to combat abnormal cells. The more dark spots it has, the higher its immunity enhancement will be. Hence, the riper the banana the better the anti-cancer quality.
THIP Media has fact checked a similar claim that stated you eat bananas with dark spots on them. 
Disclaimer: Medical Science is an ever evolving field. We strive to keep this page updated. In case you notice any discrepancy in the content, please inform us at [email protected]. You can futher read our Correction Policy here. Never disregard professional medical advice or delay seeking medical treatment because of something you have read on or accessed through this website or it's social media channels. Read our Full Disclaimer Here for further information.