Is garlic effective in promoting fast hair growth?
To some extent. Garlic has been traditionally believed to promote hair growth, and there are scientific evidence to support its effectiveness. Garlic contains certain compounds that may have potential benefits for hair health, such as improved blood circulation and antimicrobial properties. However, more research is needed to determine its specific impact on hair growth.

Quick take
A social media post claims that applying garlic bulblet daily on the affected area can cover the scalp with hair growth. We fact-checked and found this claim to be Half True.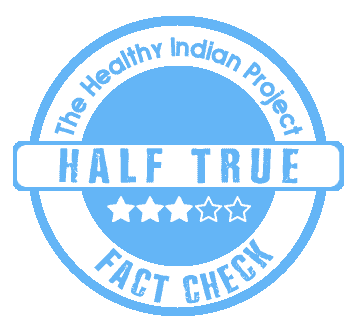 The Claim
This Instagram post by fashionartdiy, boasting an impressive 224k followers and garnering over 1,151 likes. The post claims that applying garlic bulbs directly on bald patches can magically stimulate hair regrowth within a week.
Fact Check
What causes hair thinning/loss?
Unhealthy hair care practices such as excessive treatments, the use of harsh products, and tight hairstyles can contribute to hair thinning. Inadequate intake of essential nutrients like iron and folic acid, as well as experiencing chronic stress, can also impact hair health. Additionally, thinning hair may be influenced by factors such as genetics, hormonal changes, weight loss, autoimmune diseases, immune system deficiencies, skin disorders, infections, or vitamin D deficiency.
Can garlic help in hair-related problems?
Yes. A 2022 study suggests that garlic's immune-modulating properties may contribute to its effectiveness in treating alopecia areata, an autoimmune condition that leads to hair loss. Garlic and onions, both members of the Asparagus family, contain diallyl disulphide, which may contribute to their therapeutic effects. While different treatment methods exist for hair regrowth, garlic's antimicrobial, immunomodulatory, and anti-inflammatory effects make it an interesting potential option.
A 2021 study says that Garlic has been traditionally used for its versatile properties and is now recognized for its potential in controlling dandruff. One of its key components, allicin, is rich in Sulphur and has been found to be effective in treating hair loss. This makes garlic a promising ingredient in addressing hair loss issues.
What are the side effects of applying garlic directly on the scalp?
As per the claims said to apply garlic bulb on the bald patches a study was conducted in 2020. There have been reports of adverse effects associated with the use of garlic for dermatological conditions. Some individuals may experience allergic or irritant contact dermatitis, urticaria, angioedema, pemphigus, anaphylaxis, and photoallergic. The allergenic components of garlic, such as diallyl disulfide, allyl propyl sulphide, and allicin, are believed to be responsible for these reactions. It is important to be cautious when using garlic topically, as it can cause irritant contact dermatitis and chemical burns, particularly when applied under occlusive dressings. Patch testing with garlic allergens may be recommended for individuals suspected of having a garlic allergy. Although garlic has potential benefits, it is essential to be aware of the potential side effects and exercise caution when using it for medicinal purposes.
According to Dr Jyothy Kannangath, a distinguished Dermatologist, individuals with allergies might experience a range of symptoms such as a crimson rash, hives, itching, inflammation, or swelling in the affected region.
Moreover, the convenience and affordability of using home remedies to treat health issues can sometimes make it tough for people to be cautious. Also, easy access to social media has made it even more challenging to exercise caution when trying these remedies. As a result, claims such as inducing hair growth at home using quick remedies are widespread.
Addressing the problem of people undergoing self-medication, Dr Kannangath says, "Using self-administered treatments can be hazardous if not applied correctly and may result in infections. Continuous application could also give rise to folliculitis, characterized by the formation of small boils on the scalp".
Disclaimer: Medical Science is an ever evolving field. We strive to keep this page updated. In case you notice any discrepancy in the content, please inform us at [email protected]. You can futher read our Correction Policy here. Never disregard professional medical advice or delay seeking medical treatment because of something you have read on or accessed through this website or it's social media channels. Read our Full Disclaimer Here for further information.