Can consuming vitamin D prevent Covid 19?
Not really. Vitamin D is good for overall health but it cannot be a cure for COVID-19. While Vitamin plays an important role in promoting immune response, more scientific evidence is required to support the claim.
Quick Take
A video on social media claims eating vitamin D can reduce the risk of Covid infection. We fact-checked and found the claim to be Mostly False.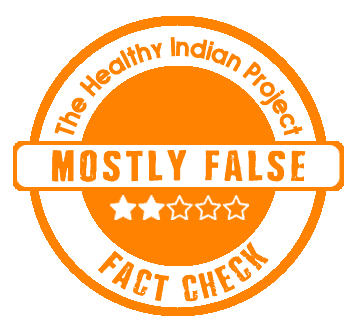 The Claim
A YouTube video claims that vitamin D supplements can reduce the risk of admission to intensive care during the coronavirus pandemic.
The video has received 1.2M views till we last checked.
Fact Check
Does eating vitamin D protect you from Covid infection?
There is currently limited evidence to suggest that vitamin D supplementation may help protect against severe outcomes of COVID-19.
Vitamin D is essential for overall health, and a deficiency can lead to the risk of several health problems, including Covid infection. However, it is not a cure for COVID-19 and should not be relied on as a sole means of protection against the virus. It's important to note that while some studies have shown an association between low vitamin D levels and an increased risk of severe COVID-19, more research is needed to determine a cause-and-effect relationship.
Even the research paper titled 'Protective Effect of Vitamin D Supplementation on COVID-19-Related Intensive Care Hospitalization and Mortality: Definitive Evidence from Meta-Analysis and Trial Sequential Analysis' as talked about in the YouTube video only speculates about the protective role of vitamin D against Covid infection.
To this Nutritionist Kamna Chauhan adds, "Eating vitamin D will not completely protect you from covid infection but it may reduce the complication and prevent death in those who are infected. Vitamin D is a fat soluble vitamin which is produced by exposure to sunlight. Ultraviolet B rays in sun activate protein in skin called 7-dehydrocholesterol which then metabolize to active form of vitamin D. Vitamin plays an important role in promoting immune response. It has both anti-inflammatory and immunoregulatory properties. Besides this, it is also known to enhance function of immune cells, including T-cells and macrophages."
Same has been confirmed by Dr Kashyap Dakshini, General Physician practicing in Mumbai. He informed, "There have been conclusive reports of various meta-analyses and trial sequential analysis proving that bolus supplementation of Vitamin D can reduce the severity of COVID-19 infection. Its consumption can reduce ICU stay and mortality in elderly patients."
Even if vitamin D might have a curative effect against COVID infection, we need more research on optimal dose acceptable for human consumption.
Disclaimer: Medical Science is an ever evolving field. We strive to keep this page updated. In case you notice any discrepancy in the content, please inform us at [email protected]. You can futher read our Correction Policy here. Never disregard professional medical advice or delay seeking medical treatment because of something you have read on or accessed through this website or it's social media channels. Read our Full Disclaimer Here for further information.