Quick Take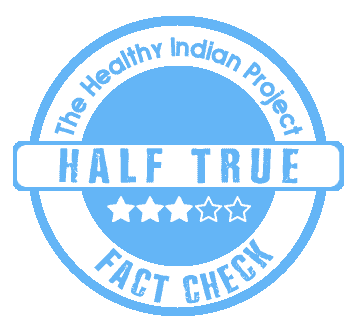 A few social media posts and a few health articles on different media platforms suggest that it is harmful to eat eggs daily. They claim eggs whites increase the risk of biotin deficiency in the body. We fact-checked and found that the claim is half true.
Such posts miss an important context while quoting the research related to this fact.
The Claim
"It has been observed that eating egg whites may increase the risk of biotin deficiency. Avidin, a protein present in egg whites rubs off biotin from the body, increasing the risk of biotin deficiency, thereby increasing the risk of possible side effects," claims one such health article. An archived version of the same can be seen here and a screenshot is given below.
Fact Check
What is Biotin?
Biotin, also called vitamin B7 or vitamin H, is a water-soluble vitamin that belongs to the B vitamin family. Biotin (Vitamin B7) plays an important role in food metabolism and keeping our endocrine system healthy. A single, large egg contains between 13 and 25 micrograms of biotin. Other dietary sources of biotin (Vitamin B7) include fish, meat, milk, fruits like bananas, and vegetables like sweet potato, cauliflower, broccoli, etc.
What is Avidin?
Avidin is a particular protein that is present in birds, reptiles, and amphibians and is passed on their eggs. The exact role of Avidin is still not known, however, in the human body it is considered to be an antinutrient (a substance that prevents absorption of nutrients). Avidin binds the biotin (Vitamin B7) present in the egg closely and prevents its absorption in the human body.
Can Avidin in Egg cause a biotin deficiency in human body?
Theoretically, Yes. Avidin binds to biotin and stops its absorption in the body. Worst still, Avidin does not only bind to the biotin in the egg, it also binds biotin from other food sources and prevents them from getting absorbed in our body, thereby creating a risk of biotin deficiency in the body.
However, there is a very important context that needs to be mentioned here.
Avidin binds biotin in Egg majorly in its raw form. Hence, the risk of biotin deficiency, if any from Avidin, is only to someone who consumes raw eggs (or egg whites). Research has shown that Avidin is denatured and its biotin-binding capabilities are drastically reduced over 75 to 80 degrees centigrade. Another research shows that a complete deactivation of Avidin's biotin-binding ability happens when boiled for over 4 minutes.
Also, even though raw egg whites contain Avidin, it is unlikely to cause any major effect like Vitamin deficiency unless a lot of raw eggs are consumed daily for many days.
Researchers note, "Nutritional biotin deficiency is rare" but at the same time warns that "consumption of raw eggs on a regular basis may cause biotin deficiency."
So, to be at risk of biotin deficiency from eating eggs, you will have to be eating raw eggs daily for a prolonged period of time.
Disclaimer: Medical Science is an ever evolving field. We strive to keep this page updated. In case you notice any discrepancy in the content, please inform us at [email protected]. You can futher read our Correction Policy here. Never disregard professional medical advice or delay seeking medical treatment because of something you have read on or accessed through this website or it's social media channels. Read our Full Disclaimer Here for further information.