Quick Take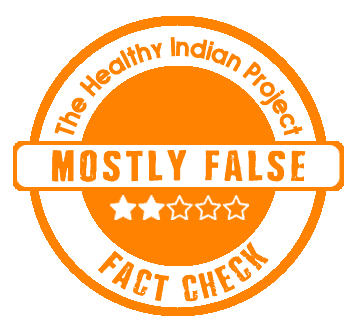 A lot of Facebook posts have put up different Ad creatives that read, "Eat Chicken, Beat Corona". We have done a Fact Check of the same and found that the claim is Mostly False.
The Claim
A number of Facebook posts read, "Eat Chicken, Beat Corona". While some of the slogans were followed by an explanation on how chicken increases immunity and helps beat COVID, others carry only the slogan.
Few of the snapshots are given below:
Fact Check
Can Chicken help improve immunity?
While Chicken meat has important nutrients, they cannot be building our immunity alone.
Medical websites have listed chicken (and poultry) as immunity-boosting foods. United States health department website NIH lists poultry products as a primary source of Vitamin B6.
Kajal Gupta, Dietitian and Nutritionist, says, "Chickens are lean meat i.e. high source of protein, low in fat. This makes them a good nutrient to be added to the diet as proteins are building blocks to our immunity."
The health website of Harvard mentions the following about Chicken, "A warm bowl of chicken soup is a popular go-to when we're feeling under the weather. Is there scientific evidence that it aids in healing? The short answer is no; there aren't any clinical trials that show that chicken soup speeds healing any more than other foods. But when breaking down its ingredients, it does appear a worthwhile remedy to try."
Can Chicken help prevent COVID-19?
No. Immunity is a sum total of multiple functions in our body. As per the website of CDC, "Immunity to a disease is achieved through the presence of antibodies to that disease in a person's system." While protein in Chicken can surely help in building immunity powers, it cannot singularly prevent a infectious disease like COVID-19.
Kajal Gupta, Dietitian and Nutritionist say, "There is no alternative to eating healthy. That is an important step towards building a healthy body. But, a single substance diet alone cannot build immunity against COVID-19. It's necessary to take all the recommended precautions along with eating a variety of fruits, vegetables, and proteins."
What are the sources of these claims?
We could track the source of the slogan "Eat Chicken, Beat Corona" to an advertisement by the Karnataka Poultry Farmers and Breeders Association and Vencobb — part of All India Poultry Development and Services Private Limited. The advertisement apparently seemed like a response to rumor that "eating chicken and eggs during the pandemic is not safe". However, the slogan initially chosen to educate the audience, went wrong when it was used out of context by many other companies.
The original advertisement was also condemned by the Advertising Standards Council of India (ASCI) and the advertisement was asked to be taken down. This reportedly happened after PETA India lodged a complaint against the Advertisement.
Despite that many Facebook pages still carry the old copy of the Advertisement or altered version of the same slogan.
Disclaimer: Medical Science is an ever evolving field. We strive to keep this page updated. In case you notice any discrepancy in the content, please inform us at [email protected]. You can futher read our Correction Policy here. Never disregard professional medical advice or delay seeking medical treatment because of something you have read on or accessed through this website or it's social media channels. Read our Full Disclaimer Here for further information.