There is no scientific basis for the claim that drinking ice water, soda water or eating coconut during menstruation cause uterus cancer or tumour. The best way to minimize the risk of cancer is to eat a healthy, balanced diet and stay active.
Quick Take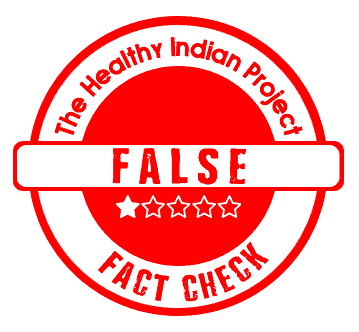 A Facebook post claims that drinking ice during menstruation cause uterus cancer or tumour. We fact-checked and found that the claim was False.
The Claim
A post on Facebook reads, "Do not drink ice water, soda water, or eat coconut during menstruation. Research proves drinking ice during menstruation can cause menstrual blood to remain in the uterine wall and after 5-10 years, can cause "UTERUS CANCER OR TUMOR." A screenshot of the post is attached below:
Fact Check
What are the causes of uterine cancer or tumour?
Uterine cancer occurs when there is an abnormal growth of cells in the uterus. It can affect either the endometrium (the lining of the uterus) or the myometrium (muscle tissue). The exact cause of uterine cancer is unknown. However, there are certain risk factors that can cause mutations, which might lead to cancer. The risk factors include menopause, obesity, older age, hormone therapy, diabetes, hypertension, never having children, endometrial hyperplasia (thickening of the endometrial wall lining), family history, etc.
Does drinking ice water during menstruation causes cancer?
No. There is no scientific evidence which can prove that drinking ice water causes cancer. The consumption of cold water or ice water does not impact the reproductive system. Menstruation is a hormonal process, and hot water might help in reducing cramps; therefore, it is sometimes recommended. UNICEF has already busted this myth and stated, "Cold water has no impact on the menstrual cycle. Menstruation is linked to the reproductive system, and drinking/eating is linked to the digestive system. Those two systems are separate. Therefore, there is no risk that a period will stop (or period blood appearing clotted) from eating any particular foods or drinking cold water. Factors that can sometimes make a period come late are: being tired, stressed, or sick."
Does drinking soda water or eating coconut during menstruation cause uterus cancer or tumour?
No. There is no scientific basis for this claim. There is no relationship between ingesting coconut or drinking soda water with cancer. Menstruation is a hormonal process. The endometrium is a tissue formed inside the uterus every month, and when there is no pregnancy, it is discarded through menstruation. Ingesting soda water or coconut neither alters the hormonal cycle nor predisposes the body to any illness regarding the female reproductive system.
Dr. Sarthak Moharir (MBBS, MD, Radiation Oncology), Consultant radiation oncologist at HCG Cancer Centre in Vadodara, Gujarat, further confirms this by stating, "No. None of these things causes uterine cancer. It is mostly caused by other environmental factors that we have no control over, like hormonal imbalances, pollution and stress."

Disclaimer: Medical Science is an ever evolving field. We strive to keep this page updated. In case you notice any discrepancy in the content, please inform us at [email protected]. You can futher read our Correction Policy here. Never disregard professional medical advice or delay seeking medical treatment because of something you have read on or accessed through this website or it's social media channels. Read our Full Disclaimer Here for further information.