Is cucumber good for managing bad breath?
Due to their high-water content, cucumbers prevent a dry mouth and remove any leftover food from the mouth. However, they cannot cure bad breath on their own. Additionally, managing bad breath calls for a professional approach.
Quick Take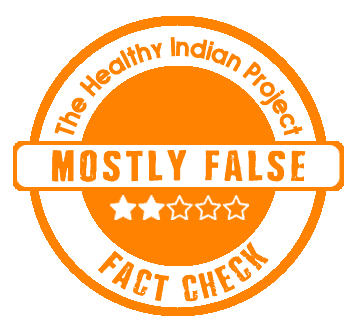 A post on Instagram claims that cucumbers could cure bad breath. We analyzed the claim. Our research shows that the claim is Mostly False.
The Claim
According to a post on Instagram titled "Tips of the Day," putting a slice of cucumber in the mouth could slow the growth of bacteria. Thus, it suggests that cucumbers can be used to treat foul breath. It should be noted that cucumbers may be helpful for offensive odors. However, it cannot be applied as a remedy for the same.
Fact Check
What leads to bad breath?
Everyone experiences breath odor occasionally. Bad breath can be a temporary problem or a persistent disease. Food crumbs adhering to the teeth or in the mouth are broken down and digested by bacteria. Thus, the combination of oral bacteria and rotting food produces an unpleasant odor.
Bad breath is common from strong meals and beverages like coffee, onions, and garlic. The fundamental problem is poor dental hygiene. Smoking is an important additional component. Since smoking inhibits salivary flow. This ultimately has an impact on saliva's ability to neutralize odors and maintain a fresh mouth. Furthermore, sinus or throat conditions might be the source of bad breath. In addition to dental problems, medical conditions like diabetes, renal or liver disease, and stomach disorders can also cause bad breath.
Can bad breath be diagnosed?
Yes. Bad breath can be identified by the dentist. It is always possible to determine the source of bad breath by examining the mouth, nose, and tongue. During the assessment, a person's eating habits, medical background, and any allergies could be discussed. All of these, assist in identifying the problem's underlying cause. The dentist can also suggest seeing a physician to make sure there are no undetected medical conditions.
Can cucumbers help get rid of bad breath completely?
No, not always. Cucumbers are a rich source of water and vital vitamins and minerals. Cucumber consumption has a number of possible health benefits. These benefits include reducing blood sugar levels, balancing hydration, and weight loss. Additionally, there is evidence that the phytochemicals in cucumbers may inhibit the growth of bacteria. Please be advised that cucumbers have limited antimicrobial properties. Furthermore, if consumed raw, cucumbers may have abrasive properties. This aids in releasing food that has become lodged and may aid in preventing plaque.
However, it should be emphasized that bad breath can be significantly influenced by a variety of circumstances, including the state of the mouth, the health of the teeth, and underlying medical conditions. Therefore, there is no concrete evidence to suggest that cucumbers could effectively reduce bad breath.
When we asked Dr. Pooja Bhardwaj, BDS, our dental specialist, if a cucumber might treat foul breath, she responded that cucumbers might have a cleansing effect because of their fibrous nature. Also, research suggests that the high-water content of cucumbers may help prevent dry mouth. This would encourage salivation and assist in preventing halitosis, or bad breath. Additionally, cucumbers' phytochemicals prevent harmful microorganisms in their tracks. Not to mention that, although being a frequent DIY, it does not guarantee a complete resolution of the problem. Therefore, a dentist's advice is necessary.
Is it possible to treat bad breath?
Yes. It is important to underline the value of regular dental check-ups. Professional cleaning could be performed if plaque buildup is the cause. Additionally, the dentist could offer specific advice on how to get rid of bad breath. Some of these measures include practicing proper tooth hygiene and limiting alcohol and tobacco usage. The dentist could recommend eating foods like carrots, cucumbers, celery, clove and bell peppers. Bad breath is frequently made worse by dry mouth. To move through this, drink water and chew sugar-free gum. Not to mention that if there were any underlying medical issues, such as sinus infection or kidney disease, the ailment might be handled.
THIP MEDIA TAKE: According to our research, cucumbers may help to reduce bad breath. However, they cannot cure bad breath on their own. So, we draw the conclusion that the claim is mostly false.
Disclaimer: Medical Science is an ever evolving field. We strive to keep this page updated. In case you notice any discrepancy in the content, please inform us at [email protected]. You can futher read our Correction Policy here. Never disregard professional medical advice or delay seeking medical treatment because of something you have read on or accessed through this website or it's social media channels. Read our Full Disclaimer Here for further information.