Does lettuce water induce sleep?
The studies indicate that the components latucin and lactucpircrin in lettuce possibly have a sleep-inducing effect. But, the concentration of these compounds is variable in different varieties of lettuce. Also, there is a lack of scientific evidence which proves that the same effect will be present after drinking water with lettuce in it.
Quick Take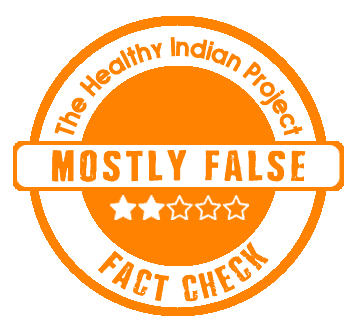 A Facebook post claims that if you boil lettuce and drink that water, it makes you sleepy. We fact-checked and found that the claim was Mostly False. There have been studies that indicate that certain components of lettuce might have sleep-inducing effects. But, these studies are available on the consumption of lettuce rather than on the lettuce water.
The Claim
A post on Facebook claims that boiling lettuce and drinking that water makes you sleepy. The narrator of the video shows that after consuming it, he gets drowsy after a few minutes.
Fact Check
Are there any sleep-inducing effects of lettuce?
Maybe. There has been some research that indicates that lettuce might have some sleep-inducing properties. Research done on rodents studied the effects of Lactuca sativa (Green Romaine Lettuce) on sleep enhancement and found that lactucin and lactucopicrin, present in it, promote sleep in rats. But, it must be noted that the researchers of the study compared sleep latency and sleep duration among mice given the various types of lettuce, but there was no comparison between the sleep latency and sleep duration of mice who hadn't been given any lettuce extract.
Another research published in 2017 indicated that seeds and leaf extracts of romaine lettuce had a higher content of lactucin as compared to the other varieties, and it contains antioxidant phenolics that protect from the oxidant stress caused by sleep disturbance.
Another study published in the journal Rev Bras Ginecol Obstet concluded that amongst various non-pharmacological interventions, lettuce seed might be effective for improving sleep quality during pregnancy.
Similarly, a study published in 2021 indicated that lettuce seed syrup might improve self-reported sleep quality in participants with breast cancer. Although, it mentions that large trials are needed in the diverse samples to confirm this.
Does the consumption of lettuce water make you sleep easily?
Not exactly. There is no scientific evidence that proves that the consumption of lettuce water will help in sleeping. As stated above, there aren't enough studies proving its effect on humans. The scant studies that focus on latucin and lactucpircrin are mostly tested on animals. Secondly, the results documented are for the lettuce extract or lettuce seeds, not whole lettuce, boiled or otherwise, let alone the water it was boiled in.
It should be noted here that the researchers in the aforementioned study used an extract of a type of lettuce, which is a much more highly concentrated amount of the compounds in lettuce. But, it is not clear how much of the active compound will be present in the water after the lettuce is boiled in it.
Lastly, the studies are scant on various types of lettuce. Therefore, further research is needed to reach conclusive results.
Our psychiatric expert, Dr. Binda Singh, puts up her view and states, "No. Lettuce is considered good for health and contains components such as latucin and lactucpircrin which might have a sedative effect. But it's unclear if the same effect will be present if you boil lettuce and drink that water. Also, any such practice comes with certain side effects. A person becomes habitual to this and eventually relies on it on a regular basis to fall asleep. Therefore, this is not recommended."
Disclaimer: Medical Science is an ever evolving field. We strive to keep this page updated. In case you notice any discrepancy in the content, please inform us at [email protected]. You can futher read our Correction Policy here. Never disregard professional medical advice or delay seeking medical treatment because of something you have read on or accessed through this website or it's social media channels. Read our Full Disclaimer Here for further information.