Can one rely on bee sting, an unproven remedy to cure HIV?
Not really. Bee stings can't cure HIV. Although research suggests that the component melittin found in bee venom can destroy HIV, more research is required to determine the therapeutic dose and safety of bee venom. Therefore, people should not rely on bee stings as a cure for HIV and should seek appropriate medical treatment.
Quick Take
Various social media posts claim that bee venom contains toxins that can destroy HIV, and its sting can cure HIV. We fact-checked and found this claim to be Mostly False.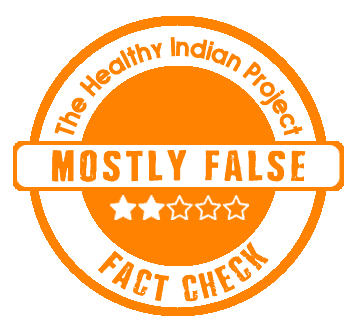 The Claim
A Twitter post reads, "Bee sting can kill HIV virus/ cure HIV patient."
A similar claim is shared on Facebook, stating, "A Bee Sting, Possible Cure for HIV.
Researchers say the hidden cure to the HIV virus that causes AIDS may be in the sting of a bumble bee."
Fact Check
Does bee sting cure HIV?
Not exactly. There is no scientific evidence to support the claim that bee stings or any other natural remedy can cure HIV.
As of now, there is no cure for HIV. However, Antiretroviral treatment (ART) can control the infection. Thus, the virus multiplication in the body is limited, which can lead to long and healthy lives. The treatment lowers the viral load (concentration of the virus in the blood). Successful viral suppression restores the immune system, halts the onset and progression of the disease, and reduces the chances of getting opportunistic infections.
Researchers have found that bee venom's principal toxin is melittin, a small protein. They have found that the nanoparticles carrying a toxin found in bee venom can destroy human immunodeficiency virus (HIV) while leaving surrounding cells unharmed. 
Another research also states that honey bee venom may be safe and therapeutic in a specified dose. It also states that the uptake of melittin by HIV-infected cells can possibly cause a decrease in HIV gene expression and replication.
However, much more research will be required before these results can be put to use in people. Also, the research is based only on a single component, melittin. However, the bee venom contains various other components such as peptides like apamin, mast cell degranulating (MCD) peptide, and adolapin, enzymes such as phospholipase A2 (PLA2) and hyaluronidase, and amino acids and volatile compounds. One cannot be dependent on bee stings as not only it can have adverse effects, the possibility of any therapeutic effect is currently dependent on a component that is derived from the venom and not the entire venom.
Dr. K. S. Satish, Senior Chest Specialist and HIV Physician at Fortis Cunningham Road and Manipal Hospital, Millers Road, Bangalore, clarifies this by stating, "While a person living with HIV can suppress the virus with antiretrovirals, there is no cure for HIV till date. A cure for HIV would refer to the total eradication of the virus from the body, which is still under research."
Why relying on bee stings to cure HIV can be dangerous?
Relying on bee stings or any other unproven remedy to cure HIV can be dangerous and it is not recommended as it may delay or even prevent individuals from seeking and receiving the proper medical care they need. This can result in the progression of the virus, increasing the risk of complications and even death. 
Additionally, depending on bee stings as a cure for HIV can increase the risk of adverse reactions and complications. Bee stings can cause allergic reactions, ranging from mild to severe, in some people. In rare cases, bee stings can cause a life-threatening condition called anaphylactic shock.  Any unproven remedies can give false hope to individuals and lead to disappointment, frustration, and despair when they do not see any improvement in their condition.
Disclaimer: Medical Science is an ever evolving field. We strive to keep this page updated. In case you notice any discrepancy in the content, please inform us at [email protected]. You can futher read our Correction Policy here. Never disregard professional medical advice or delay seeking medical treatment because of something you have read on or accessed through this website or it's social media channels. Read our Full Disclaimer Here for further information.