Quick Take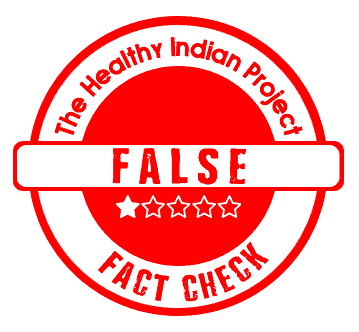 A lot of people claim that as per Ayurveda you should not drink water while standing, rather you should always sit down while drinking water. We fact-check and found that the claim is false.
The Claim
The claim that "you should drink water only while sitting down" comes in varied versions. While some claims say, "water enters esophagus and stomach with high pressure when you drink it while standing up", some others claim, "the force of water hits the knees and causes arthritis."
Many such posts can be seen here, here, here, and here. A screenshot of a similar claim is shared below.
Fact Check
Does Ayurveda suggest that you should drink water only while sitting down?
No. There is no scientific evidence that a particular posture is suggested while drinking water. No such recommendation is also given in Ayurveda.
Dr. P. Rammanohar, Research Director, Amrita Centre for Advanced Research in Ayurveda (ĀCĀRA) says, "Ayurveda suggests that food should be consumed while sitting down to avoid choking. There is no recommendation on how to drink water. But it's common sense that you should not consume water in a hurry, or drink too much water too fast, or drink while in a wrong position. Those things can cause choking."
Is it unhealthy to drink water while standing up?
No. There is no scientific evidence that suggests that drinking water while standing up can cause any health problems.
The claims about water entering the stomach at a high force damaging the walls of the intestine are unscientific too. Whenever we swallow food or water, it enters our digestive system through the esophagus. The large, hollow organs of the GI tract contain a layer of muscle that enables their walls to move. The movement of organ walls—called peristalsis—propels food and liquid through the GI tract and mixes the contents within each organ. Peristalsis looks like an ocean wave traveling through the muscle as it contracts and relaxes. Hence, the water doesn't directly 'fall' into the stomach.
General Physician Dr. S Krishna Prasanthi, MBBS, MD (PGIMER) explains, "The peristaltic movement is an involuntary mechanism in the body that happens as soon as the food (either liquid or solid) is swallowed. Contrary to the popular claim that the liquid is moved directly under the effect of gravity, it is this peristalsis that propels the distal movement of food. So, there is no scientific validation behind not drinking water while standing. There is no risk of damage done to the digestive tract, and also risks lungs and heart functions if we drink water while standing."
Disclaimer: Medical Science is an ever evolving field. We strive to keep this page updated. In case you notice any discrepancy in the content, please inform us at [email protected]. You can futher read our Correction Policy here. Never disregard professional medical advice or delay seeking medical treatment because of something you have read on or accessed through this website or it's social media channels. Read our Full Disclaimer Here for further information.