Does almond milk contain cyanide?
Almond milk contains little amount of a substance called amygdalin, which is further broken down by the digestive system and converted into cyanide. Moreover, for producing almond milk, manufacturers use sweet almonds which contain extremely low amounts of amygdalin. Thus, almond milk is considered safe for consumption.
Quick Take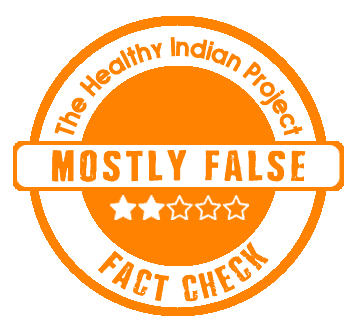 A social media post claims that almond milk contains dangerous levels of cyanide and should not be consumed. We fact-checked and found this claim to be Mostly False.
The Claim
A social media post says that Almond milk is poison as it contains cyanide.
Fact Check
What is cyanide poisoning?
Cyanide refers to any chemical that contains a carbon-nitrogen (CN) bond. If the exposure to cyanide causes symptoms, such as, dizziness, rapid heart rate, shortness of breath, headache, and vomiting. If not treated at that stage, it can cause severe symptoms, such as seizures, slow heart rate, low blood pressure, loss of consciousness, and cardiac arrest.
Does Almond milk cause cyanide poisoning?
Not exactly. Almond milk contains a trace amount of a substance called amygdalin, which on consumption, is broken down by the digestive system and converted into cyanide. Amygdalin is a natural cyanogenic glycoside that occurs in the seeds of almonds and peaches. High-dose exposures to amygdalin can produce cyanide toxicity. However, it must be noted that the amount of cyanide varies depending on the type.
Researchers found that the Hydrogen Cyanide levels in bitter almonds are approximately 40 times higher than levels found in sweet almonds. However, it is speculated that boiling, roasting, or microwaving bitter almonds helps in reducing the toxin content.
Moreover, Research has shown that the human body can process cyanide in a mild amount.
The almonds that are used in producing the milk contain extremely low amounts of amygdalin. Moreover, bitter almonds are normally not used in the production and manufacturing of almond milk and various manufacturing companies even state that only 2% of the actual almond milk has the nuts involved. Thus, the almond milk we consume is safe to use and therefore, the claim stands mostly false until proven otherwise.
THIP Media has done a similar fact check that stated that apple seeds are poisonous enough to kill people. 
Disclaimer: Medical Science is an ever evolving field. We strive to keep this page updated. In case you notice any discrepancy in the content, please inform us at [email protected]. You can futher read our Correction Policy here. Never disregard professional medical advice or delay seeking medical treatment because of something you have read on or accessed through this website or it's social media channels. Read our Full Disclaimer Here for further information.