Quick Take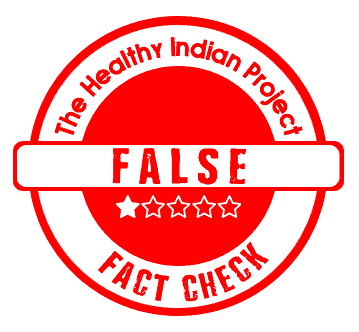 A social media post claims that when your body is full with poison, toxaemic, and acidosis, your body builds a bag and collects all the poison from your body into this bag, which they call a tumour. It further claims that needle biopsy explodes and pours all the poison into the body. We fact-checked and found this claim to be False.
The Claim
A social media post reads, "People need to understand that a tumour is there to save your life, When your body is full with poison, toxaemic and acidosis and you are basically going to die of that poison — your body builds a bag and collects all the poison from your body into this bag, which they call a tumour. So the body did all the work. The post further reads, "And now they come and they say ' We need to do a needle biopsy and pinch into this highly toxic tumour; which of course now explodes and pours all the poison into the body."
The same post can be seen on Twitter here. 
Fact-Check
What is a Tumour?
A tumour is an abnormal growth of cells that forms a solid mass of tissue. Tumors can affect bones, skin, tissue, organs, and glands. Tumours grow and behave differently, depending on whether they are cancerous (malignant), non-cancerous (benign), or precancerous. Even if they are benign, they still may need treatment. When a tumour is malignant or cancerous, it can be life-threatening and requires cancer treatment.
How does a Cancerous tumour grow?
According to Cancer Research UK, Cancer cells stay inside the tissue from which they have developed. They grow and divide, creating more cells that form a tumour. Sometimes, as many as a million cancer cells can form a tumour. 
There is a basement membrane that keeps all the cells of the body tissue inside it. Unfortunately, the cancer cells have the power to break this membrane. Thus, this would be called invasive cancer.
As the size of the tumour increases, its center moves away from the blood vessels it is growing, depriving it of oxygen and nutrients. In such cases, the cancer cells can't live without them and they send signals called angiogenic factors which encourage new blood vessels to grow in the tumour. This process is called angiogenesis.
With the increasing size, they cover more and more areas in the body, thereby, suppressing the surrounding organs and hampering their function.
Does a tumor collect all the poison from your body and save your life?
No. There is absolutely no scientific evidence that supports this claim. Rather, a tumor, whether benign or malignant, needs emergency treatment. They destroy the normal cells around it and damage the body's healthy tissues, making a person sick. Therefore, the claim is false.
Dr. Manish Singhal, Senior Oncologist, Apollo Hospital, says, "There is absolutely no truth in the claim that a tumour collects all the poison from your body and saves your life. However, a tumour can push itself or grow into nearby blood vessels, nerves, and organs and affect the body's normal functioning. Therefore, it is necessary to consult a doctor, irrespective of the tumour being benign or malignant."
Can Biopsy make Cancer spread?
Very rarely. The American Society of Clinical Oncology says a biopsy is often the best way to definitively say whether a person has cancer. Some researchers say "Tumor seeding or needle seeding refers to rare occurrences when the needle inserted into a tumor during a biopsy dislodges and spreads cancer cells. It is sometimes called needle track or tract seeding because the cancer cells grow along the needle's track."
Several studies and reports of individual cases confirm that tumor seeding is a rare event and that the benefits of biopsies far outweigh the risks. According to the National Cancer Institute, 'The chance that surgery will cause cancer to spread to other parts of the body is extremely low. Following standard procedures, surgeons use special methods and take many steps to prevent cancer cells from spreading during biopsies or surgery to remove tumors."
Disclaimer: Medical Science is an ever evolving field. We strive to keep this page updated. In case you notice any discrepancy in the content, please inform us at [email protected]. You can futher read our Correction Policy here. Never disregard professional medical advice or delay seeking medical treatment because of something you have read on or accessed through this website or it's social media channels. Read our Full Disclaimer Here for further information.