Quick Take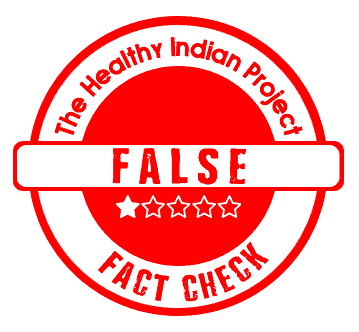 A Twitter user shows two samples of blood claiming that Covid-19 vaccinated people have a darker colour blood. We fact-checked and found that the claim is False.
The Claim
A Twitter post shows two bags of blood of two different colours. The user claims that they are samples from vaccinated and a non-vaccinated persons and puts a caption saying, "We are seeing this but like I said…. nobody saying anything." An archived version of the post is here and the actual tweet is embedded below.
Fact Check
Do Covid-19 vaccines change blood colour?
No. This is a conspiracy theory without any evidence.
Our blood gets its red colour due to Haemoglobin, a protein that plays a key role in carrying Oxygen from lungs to our entire body. There is nothing present in a Covid-19 vaccine that can change the blood colour.
Are blood colours in our body always same?
Blood colour is red. However, it can be of varying degree of red depending on multiple factors.
Blood that is pumped out of the heart is full of Oxygen and is bright red in colour. Blood that goes back into the heart is a little darker. Research has also shown that certain medical conditions can cause a change in blood colour.
Can Covid-19 vaccines cause blood clots?
Yes, but rarely.
Research has shown that Covid-19 vaccines can cause blood clots. However, Public Health England (PHE) has noted this as a 'very rare' risk. Scientists are still studying the actual cause of this blood clot due to vaccines in a minor section of people.
Disclaimer: Medical Science is an ever evolving field. We strive to keep this page updated. In case you notice any discrepancy in the content, please inform us at [email protected]. You can futher read our Correction Policy here. Never disregard professional medical advice or delay seeking medical treatment because of something you have read on or accessed through this website or it's social media channels. Read our Full Disclaimer Here for further information.