Quick Take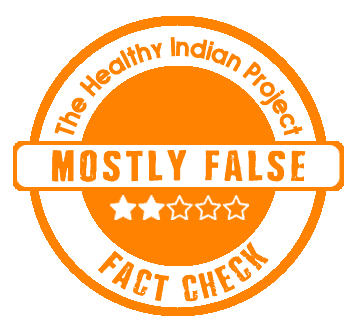 A (2021) research paper concluded the BNT162b2 mRNA covid vaccine might induce rapid progression of Angioimmunoblastic T-cell lymphoma (AITL). Referring to this research, a social media user has claimed the growth of cancer increases after the third dose of covid vaccination. We fact-checked and found the claim to be Mostly False.
The Claim
A (2021) research titled, "Rapid Progression of Angioimmunoblastic T Cell Lymphoma Following BNT162b2 mRNA Vaccine Booster Shot: A Case Report" concluded the BNT162b2 mRNA covid vaccine might induce rapid progression of Angioimmunoblastic T-cell lymphoma (AITL).
From this research, a Facebook user shared a photo of two human body scan images where one body scan showed more black spots to claim, "It's SCIENCE. Actual. Science. RAPID CANCER GROWTH AFTER 3rd JUICE.
Study below. #Proof". The post has gathered 115 likes till now.
The screenshot of the post is available down-below:
Fact Check
Is the research referred to in Facebook sufficient for the claim made?
Not exactly. The research paper based its conclusion on only one patient case who had a medical history of hypertension, hypercholesterolemia and type 2 diabetes. This patient was admitted to the hospital because of cervical lymphadenopathies. Later, doctors considered a presumptive diagnosis of stage IV lymphoma.
A single case is not enough to support a claim. But it only suggest observing similar cases to establish a relation.
Besides this, the paper was initially published as a pre-print on the SSRN and was recently made available on a website FrontiersinMedicine. It has raised questions on the followed peer-review process to analyse the paper's credibility.
Did the research paper make a correct claim?
To a certain extent. Although the research did not establish a concrete claim, the paper also nowhere showed how much AITL has spread before the covid vaccine. The paper only shows the change after 22 days of the covid vaccine. Hence, the paper alone cannot be used to make general conclusions.
What is AITL?
AITL is a kind of peripheral T cell cancer in the lymphatic system which affects blood cells called T cells. There is no information available online that suggests the mechanism through which covid vaccine causes AITL. Also, there are no recorded cases of AITL available online due to covid vaccines. The Healthy Indian Project (THIP) media has also earlier discussed covid vaccines cannot increase the cases of cancer in detail.
Disclaimer: Medical Science is an ever evolving field. We strive to keep this page updated. In case you notice any discrepancy in the content, please inform us at [email protected]. You can futher read our Correction Policy here. Never disregard professional medical advice or delay seeking medical treatment because of something you have read on or accessed through this website or it's social media channels. Read our Full Disclaimer Here for further information.