Quick Take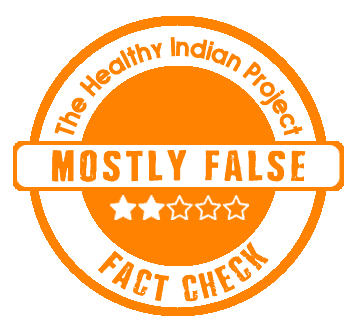 A post on social media says that using a cell phone increases the risk of developing a brain tumor by 40%. After doing a research on the topic, we can say that the assertion is Mostly False.
The Claim
According to a Facebook post, using a cellphone for 30 minutes a day increases your risk of brain tumors by 40%. A firm named RadiSafe, which sells anti-radiation gadgets, created the post. The post's archived URL can be found here. Similar posts on Facebook make the same assertion as well.
Fact Check
What is brain tumor?
Brain tumor is an aberrant tissue growth in the brain that impacts its functions and, subsequently, the entire body. The link between the illness and a continuously deteriorating emotional and mental state that reduces quality of life must be emphasized. These could differ depending on the size, location, and aggressiveness of the tumor. The symptoms typically include seizures, painful headaches, altered vision, hearing loss, and other cognitive problems. Additionally, there may be a link between behavioral and mental disorders, such as hallucinations and anger, excessive fatigue, and poor muscle control.
What could be the causes of brain tumors?
Tumors can be primary or secondary. Primary tumors can originate in the brain or its supporting tissues and are the consequences of mutated genes. However, it should be highlighted that adults are far more likely to develop secondary brain tumors, which occur when cancer spreads from one part of the body to the brain. Furthermore, the precise causes of brain tumors are challenging to ascertain. Nevertheless, several risk factors have been well investigated. Ionizing and non-ionizing radiation, familial history, and racial characteristics are among the main risk factors.
Is cell phone radiation linked to the development of brain tumors?
No conclusive evidence. Cell phone use was classified as "probably carcinogenic to humans" by the International Agency for Research on Cancer (IARC), a branch of the World Health Organization, in 2011. However, the working group also acknowledged that there are challenging issues involved in doing research on the risk of brain cancer associated with cell phone use.
As a result, many demographic studies were performed to look into the likelihood of an association between cell phone use and the risk of developing brain tumors. These mostly consist of the Danish Research, a cohort study, the Million Women's Study, and Interphone studies. Critical analysis of these studies' findings reveals a range of findings. All of these studies have not, however, shown substantial evidence that cell phones contribute to the development of brain tumors.
Additionally, according to the American Cancer Society's cell phones, the National Institute of Environmental Health Sciences (NIEHS), and the US Centers for Disease Control and Prevention (CDC), it is not yet known whether radiofrequency waves from cell phones have a negative impact on human health.
It should also be noted that the Scientific Committee on Emerging and Newly Identified Health Risks of the European Commission in 2015, reached the conclusion that exposure to radiofrequency electromagnetic radiation from cell phones did not increase the risk of brain tumors.
Furthermore, doctors have also stated that there is no direct evidence indicating an association between cell phones and an elevated risk of brain tumor development.
What other harmful health implications could using a cell phone have?
Cell phones are a significant risk factor for many health-related problems. The biggest health risk associated with using a cell phone is distraction. Neurological effects in children are particularly concerning. However, the results of research on memory, learning, and cognitive function have been generally contradictory.
Disclaimer: Medical Science is an ever evolving field. We strive to keep this page updated. In case you notice any discrepancy in the content, please inform us at [email protected]. You can futher read our Correction Policy here. Never disregard professional medical advice or delay seeking medical treatment because of something you have read on or accessed through this website or it's social media channels. Read our Full Disclaimer Here for further information.