Quick Take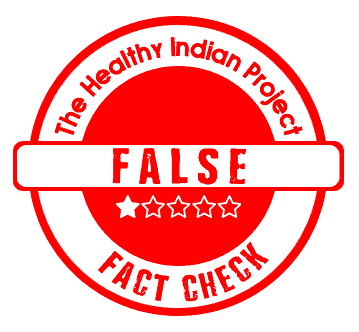 A social media post claims the polio vaccine did not cause a sharp decline in polio cases. Rather the decrease in the cases was observed by stopping the use of dichlorodiphenyltrichloroethane (DDT). We fact-checked and found the claim to be False. Polio is spread by a virus and not a chemical like DDT.
The Claim
An Instagram post claims that the polio virus was not eradicated by a vaccine. Rather it was pesticides like Lead Arsenate and DDT that cause lower spine lesions through the gut.
The post has received 16,939 likes till we last checked.
The screenshot of the post is embedded below:
Fact Check
What is polio?
Poliomyelitis, commonly called Polio is a disabling and life-threatening disease. As per the U.S. Centers for Disease Control and Prevention (CDC) website, polio is a contagious disease caused by the poliovirus. This virus spreads from person to person and can infect the spinal cord to cause paralysis.
What is DDT?
DDT is an abbreviation for dichlorodiphenyldichloroethane. DDT is an organochlorine that was first synthesized in 1874.
Farmers used DDT on food crops as a pesticide. DDT was widely used because it is effective, inexpensive to manufacture, and lasts a long time in the environment. However, the use of DDT was cancelled because it persists in the environment, stores in fatty tissues, and can cause adverse health effects on wildlife. Also, some insects can develop resistance against DDT.
Did stopping the use of dichlorodiphenyltrichloroethane (DDT), not the polio vaccine, cause a sharp decline in polio cases?
It does not seem so. We found no evidence that can show DDT causes polio. DDT was used in world war II to control malaria, typhus, body lice, and bubonic plague. But no evidence relates DDT with polio in any way.
On the contrary, evidence suggests that polio vaccination can easily prevent the infection from spreading throughout the body. Till now, there is no cure for polio.
Same has been confirmed by Dr Abhishek Juneja, an experienced neurologist practicing in Delhi. He said 'Poliomyelitis is a viral illness caused by the Polio virus. The decline in Polio cases is attributed to the mass vaccination rather than stopping DDT usage'.
The World Health Organization (WHO) website credits the polio vaccine for reducing the disease by more than 99 per cent and preventing more than 13 million cases since 2000.
Disclaimer: Medical Science is an ever evolving field. We strive to keep this page updated. In case you notice any discrepancy in the content, please inform us at [email protected]. You can futher read our Correction Policy here. Never disregard professional medical advice or delay seeking medical treatment because of something you have read on or accessed through this website or it's social media channels. Read our Full Disclaimer Here for further information.