Quick Take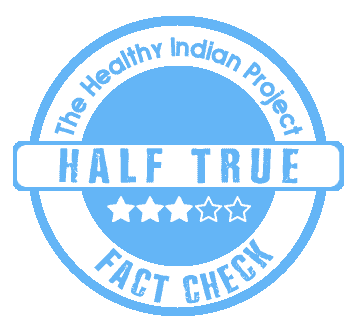 A social media user have put up facts about increased revenue of Pfizer in Q2 of FY 2021-22, the risk of COVID vaccines and other medicines Pfizer manufactures to treat those risks. We fact-checked and found that the claim is half true. While the facts maybe correct in individuality, presented together without context can be misleading.
The Claim
The social media post on Instagram reads, "Pfizer made $19 billion in Q2 this year. Some known risk of the jab are blood clots and cardiomyopathy. They make Eliquis for treating blood clots – sales up by 13%. They make Vindaqel to treat cardiomyopathy – sales up by 77%." The post can be seen here. A screenshot is given below.
Fact Check
Are the facts about Pfizer's increase in sales in Q2 of 2021 correct?
Yes. The facts are correct.
Pfizer has reportedly made $19 billion in the second quarter of 2021. Pfizer is one of the vaccine manufacturers for COVID-19.
It is also true that Pfizer manufactures Eliquis, a medicine that treats blood clots and Vyndaqel, a rare heart disease drug. NASDAQ reports that higher sales of brands like Eliquis, Vyndaqel / Vyndamax have contributed to the growth of revenues for Pfizer. While Vyndaqel saw an increase of 77% in sales, Eliquis saw increase of 16% in sales.
Are blood clot and cardiomyopathy considered to be a side effect of COVID vaccine?
Yes and No.
Blood Clot is a listed side effect in mRNA vaccines of Pfizer, Moderna and Astra Zeneca. Cardiomyopathy is not a listed side effect of the vaccines but myocarditis, another heart condition, is listed as a side effect.
What is a missing context in the post?
First, while the side effects of vaccines are real and listed on the CDC website, they are extremely rare. As of September 2021, there were less than 50 cases of blood clots reported for the vaccines in US. A study by Oxford University finds that the chance of blood clots from vaccination is about 4 in 1 million. Similarly, the reported number of cases for myocarditis are also less than 1000 so far. Hence, a growth in sales numbers of the medicines cannot be due to the side effects of the vaccines.
Second, Eliquis and Vyndaqel are not the only two drugs that saw an increase in sales. A number of other brands of medicines related to completely unrelated diseases like Inlyta, Xtandi, Prevnar 13 have also seen an increase. Hence, it is not right to isolate the data for two medicines and present them side by side with rare vaccine side effects.
Disclaimer: Medical Science is an ever evolving field. We strive to keep this page updated. In case you notice any discrepancy in the content, please inform us at [email protected]. You can futher read our Correction Policy here. Never disregard professional medical advice or delay seeking medical treatment because of something you have read on or accessed through this website or it's social media channels. Read our Full Disclaimer Here for further information.