Quick Take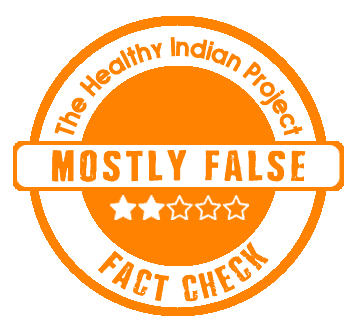 A social media post claims that 58 per cent of sudden infant death syndrome (SIDS) cases reported to the Vaccine Adverse Event Reporting System (VAERS) happen within three days of vaccination and 78.3 per cent within seven days. We fact-checked and found this claim to be Mostly False.
The Claim
The caption of a post on Instagram reads, " And on that note, don't let them convince you SIDS is normal either. 58% of infant deaths reported to v@er$ (referring to VAERS) occurred within 3 days of you know what, and 78.3% occurred within 7 days." A screenshot of the post is attached down below:
Fact Check
What is SIDS?
Sudden infant death syndrome (SIDS) is the sudden unexplained death of a child less than one year of age. It usually occurs during sleep. The baby seems healthy before its death. There is no explanation for the cause of their death. Even after a thorough investigation, an explanation for cause of death may not be found. It is also known as crib death or Cot death. According to the US Department of Health and Human Services, "SIDS is the leading cause of death among babies between 1 month and 1 year of age. About 1,360 babies died of SIDS in 2017."
Can vaccination lead to SIDS?
No. The US Department of Health and Human Services clarifies this by stating, "Recent evidence suggests that shots for vaccines may have a protective effect against SIDS. All babies should see their healthcare providers regularly for well-baby checkups and should get their shots on time as recommended by their healthcare provider.
The CDC also states, "Babies receive multiple vaccines when they are between 2 to 4 months old. This age range is also the peak age for sudden infant death syndrome (SIDS). The timing of the 2 month and 4 month shots and SIDS has led some people to question whether they might be related. However, studies have found that vaccines do not cause and are not linked to SIDS.
Multiple research studies and safety reviews have looked at possible links between vaccines and SIDS. The evidence accumulated over many years do not show any links between childhood immunization and SIDS."
Did 58 per cent of sudden infant death syndrome (SIDS) cases reported to the VAERS happen within three days of vaccination and 78.3 per cent within seven days?
Not Exactly. VAERS itself states, "Millions of vaccines are given each year to children less than 1 year old in the United States, usually between 2 and 6 months of age. At this age, infants are at greatest risk for certain medical adverse events, including high fevers, seizures, and sudden infant death syndrome (SIDS). Some infants will experience these medical events shortly after a vaccination by coincidence.
These coincidences make it difficult to know whether a particular adverse event resulted from a medical condition or from a vaccination. Therefore, vaccine providers are encouraged to report all adverse events following vaccination, whether or not they believe the vaccination was the cause."
THIP Media Take: While doing research THIP Media does not find any report related to such numbers/claims. What has been found during the research is that the VAERS system began in 1990 and the public database shows 1,066 reports of SIDS deaths. Of that total, 527 or 49.4 per cent occurred within three days of vaccination and 689 or 64.6 per cent within seven days. These vaccinations don't include the COVID-19 shots, which is only approved for those 5 and above.
Although it must be noted that anyone can report to VAERS and the adverse events are not verified. The warning on its website states, "When evaluating data from VAERS, it is important to note that for any reported event, no cause-and-effect relationship has been established. Reports of all possible associations between vaccines and adverse events (possible side effects) are filed in VAERS. Therefore, VAERS collects data on any adverse event following vaccination, be it coincidental or truly caused by a vaccine. The report of an adverse event to VAERS is not documentation that a vaccine caused the event."
Disclaimer: Medical Science is an ever evolving field. We strive to keep this page updated. In case you notice any discrepancy in the content, please inform us at [email protected]. You can futher read our Correction Policy here. Never disregard professional medical advice or delay seeking medical treatment because of something you have read on or accessed through this website or it's social media channels. Read our Full Disclaimer Here for further information.