Quick Take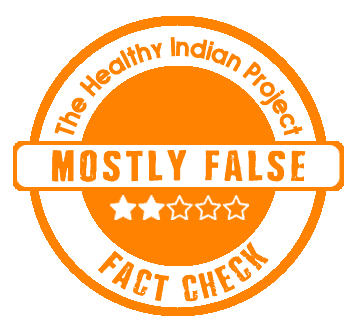 A social media post claims that potatoes and butter are superfood and you can survive only by eating them. We fact-checked and found that the claim is mostly false.
The Claim
"You can survive entirely on a diet of potatoes and butter which provides all necessary nutrients human body needs," claims the Instagram post. The post can be seen here. A screenshot is given below.
Fact Check
Is potato a superfood?
No. Potatoes are healthy food with number of important nutrients. But they are not superfoods that alone can fulfil all health needs.
Potato is a staple diet across the world and follows only rice and wheat in world importance as a food crop for human consumption. It is a carbohydrate-rich, energy-providing food with little fat. Potatoes are also high in vitamin C and are a good source of several B vitamins and potassium.
However, potatoes do not contain a number of other nutrients. Potatoes do not contain enough amount of protein, Vitamin A, Vitamin D, Zinc etc., all of which are required by the body to function.
In a study done, daily consumption of potato was significantly associated with an increased risk of being overweight. Another study published in The American Journal of Clinical Nutrition finds that people who ate fried potatoes twice a week saw an increased risk of death.
Is Butter a superfood?
No. Rather butter can have harmful health effects if not eaten in moderation.
Butter is a dairy product produced from the fat of milk. The primary composition of the item is fat. Multiple studies, here and here, have linked saturated fats with heart diseases. Other studies have linked such high fat dairy products with heart problems.
Though butter contains vitamins A, E, D, and K2, experts advise to consume butter in moderation due to its high calorie content.
Can you survive by eating potatoes and butter alone?
No. Rather it is a dangerous thought to combine potato and butter as a regular diet. A study by Harvard shows that potatoes when fried, baked or prepared as mashed ( a dish often including butter) results into weight gain, diabetes and heart disease.
Certified Dietitian and Health Coach, Voomika Mukherjee, says, "Every single food has health benefits, which doesn't mean that you can end up over-eating or replacing all with one. The preparation method, the food combination and the portion size matters. In case of potatoes, they are high in starchy carbs which if taken in excess can make one gain abdominal fat which can lead to obesity followed by lifestyle medical conditions. Also, the way one prepare the potatoes, will influence their nutrient contents."
Disclaimer: Medical Science is an ever evolving field. We strive to keep this page updated. In case you notice any discrepancy in the content, please inform us at [email protected]. You can futher read our Correction Policy here. Never disregard professional medical advice or delay seeking medical treatment because of something you have read on or accessed through this website or it's social media channels. Read our Full Disclaimer Here for further information.