Quick Take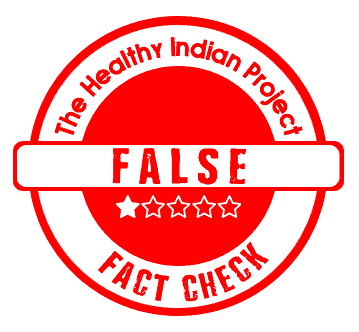 A number of social media posts claim that Cancer cells cannot survive in an alkaline base and people who get Cancer have an acidic base of the body. We fact-checked and found that the claim is false.
The Claim
"Dr. Otto Warburg won the Nobel Prize in 1931 for proving that cancer can't survive in an alkaline, oxygen-rich environment but thrives in an acidic, low-oxygen environment," claims the message. "Every single person who has cancer has a pH that is too acidic," the message further claims. Such messages can be seen here, here, and here.
A snapshot is given below.
Fact Check
Did Dr. Otto Warburg win Nobel Prize in 1931 for proving Cancer cannot survive in alkaline body?
NO. Dr.Otto Warburg won Nobel Prize in 1931 for his discovery of the "nature and mode of action of the respiratory enzyme." Dr. Warburg's research was linked to the study of Cancerous cells but that was not the sole objective of his study or the reason for which he received the Nobel Prize.
The website of Nobel Prize further mentions that Dr. Warburg's discovery "opened up new ways in the fields of cellular metabolism and cellular respiration. He has shown, among other things, that cancerous cells can live and develop, even in the absence of oxygen."
However, Dr. Warburg's discovery eventually led to "The Warburg Effect", a scientific observation that "cancer consumes glucose and excretes lactate."
In his 1926 paper, Dr. Warburg notes, "lactic acid is formed as the blood passes through the tumor," indicating that when the blood within the veins and arteries pass through a cancerous tumor they produce lactic acid and hence turns acidic in nature. This means cancer cells are causing the acidity of the blood and not the other way round.
So, Dr. Warburg's research shows, while it is true that cancerous cells thrive within an acidic environment, it is more of an effect of the Cancer and not the cause of the disease.
What is pH? Do people with cancer have acidic body?
pH is the measurement of acidity or alkalinity of any solution, including blood. Our blood has a pH of 7.35 to 7.45 which makes it slightly alkaline in nature.
Does Cancer occur when our body becomestoo acidic?
No. Experts say the area of the body around the Cancer cells being acidic in nature is an effect of the Cancer itself and not the cause of Cancer. (Very similar to what Dr. Warburg's research also suggest)
There are a few studies that have shown that cancer cells grow faster when presented in an acidic environment. This leads to the popular belief that people who have cancer cells growing inside them have an acidic body. But, in-vitro studies do not always reflect actual human body conditions.
The American Institute of Cancer Research notes, "Studies of isolated cell cultures and animal studies of cancer don't necessarily represent what happens within the human body. If the area in the body around tumors is more acidic, that doesn't mean that an acidic body environment caused cancer. Rather, it could be a result of cancer cells' high metabolic rate that generates acids (like lactic acid)."
Can we change the pH of our blood to kill Cancer?
No. Medical experts say that the pH of the blood cannot be changed through diet. Also, researchers have found no link between "diet acid load and cancer."
"If the pH of our blood alters even by a small percentage, it is enough to land a person in ICU," says Oncologist Dr.Manish Singhal.
Disclaimer: Medical Science is an ever evolving field. We strive to keep this page updated. In case you notice any discrepancy in the content, please inform us at [email protected]. You can futher read our Correction Policy here. Never disregard professional medical advice or delay seeking medical treatment because of something you have read on or accessed through this website or it's social media channels. Read our Full Disclaimer Here for further information.