Quick Take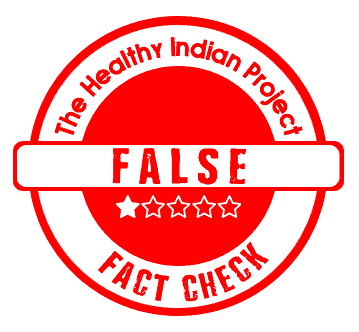 A video on social media claims that soaking feet in cold water mixed with foot effervescent tablets will help a person lose weight quickly. We fact-checked and found the claim is False. We only know that soaking feet in water helps relieve stress, boost mood and removes fungal infection but the procedure cannot induce weight loss.
The Claim
A video on Facebook shows soaking feet in cold water mixed with foot effervescent tablets helped a woman drastically lose weight within a month. A screenshot is attached down below:
Fact Check
Can you lose weight using foot tablets?
No. We could not find any scientific evidence that can explain how soaking feet in the cold water mixed with foot effervescent tablets dissolves the fat stored in different parts of the body. Advocates claim that foot detox removes toxins from the body through feet but we could not find any medical evidence of such a claim.
During our fact check we found that the video is promoting a website named NaturalYourShape.com that claims to lose weight through foot detoxification. The images and the doctor's profile used in the video are all taken from different sources. This raises an authenticity about the video and the product.
We ran a Google reverse image search on image that shows how foot tablets work. We found that the image is taken from a different website called CutisLaserClinics.com which has recommended cellulite treatment under the supervision of an experienced doctor. The website does not recommend any foot tablets for weight loss or declare association with NaturalYourShape.
The website NaturalYourShape (promoted in the claim video) quotes an expert named Dr Kary. We searched for the profile of Dr Kary and found that it is fake and her profile image is taken from a stock image library called iStock. The same photo is also being used by another Facebook page with the name Dr Ayla Düzgün.
We also searched for people shown in testimonials on the website. As a result, we find all the images are taken from various sources of internet. Most of these people reduced their weight through treatments like surgery or liposuction and have not mentioned anything about footbath. Even the before and after image of foot is available on the internet and has been used in different contexts by different people.
THIP Media has already debunked that foot pads detoxify the human body which claimed sticking the pads on the bottom draws toxins out of the feet.
Can the human body naturally eliminate toxins?
Yes. The human body can eliminate toxic substances from the body with no need for additional external inputs like foot detox. The liver, kidneys, sweat glands and intestines are responsible for removing toxins from the body. This was further confirmed by Dermatologist Dr Jyothy Kannangath. She said, "Our skin absorbs heavy metals. However, we still do not know if toxins and heavy metal molecules can be pulled out of the body through the skin. While the foot detox might seem popular, the detoxification process reduces weight remains unclear". 
Does soaking feet in water have any health benefits?
Yes. There are some health benefits of soaking feet in water. We only know that soaking feet in water helps relieve stress, boost mood and removes fungal infection. However, no research shows that soaking feet in water can reduce weight.
Disclaimer: Medical Science is an ever evolving field. We strive to keep this page updated. In case you notice any discrepancy in the content, please inform us at [email protected]. You can futher read our Correction Policy here. Never disregard professional medical advice or delay seeking medical treatment because of something you have read on or accessed through this website or it's social media channels. Read our Full Disclaimer Here for further information.