Quick Take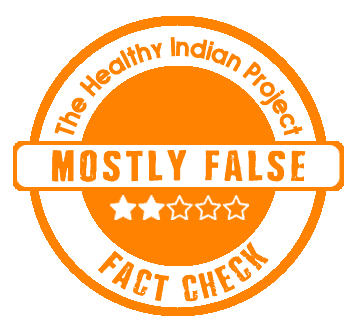 A social media post claims that you can lighten your dark neck using baking soda. We fact-checked and found this claim to be Mostly False.
The Claim
A post on Instagram titled, "Home remedy for dark neck" reads, " Take 2-3 spoons of baking soda and enough water to make a smooth paste. Now apply this paste to the neck and let it dry. Once dried completely, scrub it off using wet fingers. Now wash the area with water."
A screenshot of the post is attached down below.
Fact Check
Does a dark neck always need treatment?
Not necessarily. A dark neck is a condition in which the skin on the neck is noticeably darker than the surrounding skin. The change in colour may be alarming and make you self-conscious. However, in most cases, it isn't a cause for concern nor it is contagious.
In some cases, however, this skin darkening may be a warning sign of something more serious, so it's important to consult a dermatologist to determine the cause and begin any necessary treatment.
Medical treatment for dark neck includes exfoliation, prescription medications including salicylic acid, chemical peels, and laser treatments.
Can you lighten the dark neck with baking soda?
Not necessarily. There is no scientific evidence that proves that using baking soda on the skin is beneficial. The harm caused by using baking soda on the skin outweighs any benefits of skin lightening.
Dr. Jyoti Agarkar, MD (Dermatology) says, "Such home remedies may have side effects. You may not even know that baking soda is not suitable for your skin type and end up causing irritation or redness. It is very important that you understand your skin type first and then decide on a product. And, you should always do a patch test on your skin first before applying it all over your face."
Is it safe to use baking soda on the skin?
No. Using baking soda on the skin can cause irritation on the skin. Skin experts strongly advise against using baking soda at home for any skin treatments.
Dr. Iram Qazi, MD (Dermatology) says, "I will never suggest baking soda as a home remedy treatment. It can have damaging effects on the skin. That is because baking soda can interfere with the skin pH. The normal pH of the skin ranges from 4.5-to 5.5. This pH keeps the skin healthy and forms a protective oil barrier around it keeping it well moisturized with healthy oils and protecting it from bacteria as well. Baking soda, on the other hand, has a pH of 9. Thus applying a strong alkaline base to the skin can remove the natural protective oils from the skin and make it more prone to bacterial infections and skin damage. Also, baking soda can cause skin irritation and inflammation which may worsen acne and increase pigmentation and scarring of the skin. It can also increase skin dryness which causes overproduction of skin oils leading to more acne breakouts and scarring of the skin."
Disclaimer: Medical Science is an ever evolving field. We strive to keep this page updated. In case you notice any discrepancy in the content, please inform us at [email protected]. You can futher read our Correction Policy here. Never disregard professional medical advice or delay seeking medical treatment because of something you have read on or accessed through this website or it's social media channels. Read our Full Disclaimer Here for further information.