Quick Take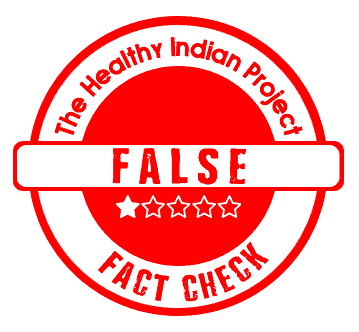 A viral social media message claims that a mother accidentally killed her kids after giving them cough syrup mixed milk. The message claims that cough syrup put in milk turns poisonous. Our fact check finds that the claim is False.
The Claim
The viral social media message reads, "A mother killed her 4 children, accidentally. The children refused to drink cough syrup. So she mixed the syrup in milk. The children went to sleep after drinking the milk and never got up. After examining the clinical trials, all 4 of them were found dead in the bed, The mixture of cough syrup and milk proved to be poisonous. The mother said that she killed the children with her own hand, she is psychologically disturbed. Avoid drinking medicine in the milk. Not only cough syrup, Do not drink any chemical additives in milk. It will become poisonous."
Archived version of the post can be seen here, here and here.
Fact Check
Does milk turn poisonous when cough syrup is mixed with it?
No. This is a baseless claim. There is no scientific evidence of milk turning poisonous when cough syrup is mixed in it.
However, as per a research, milk may reduce the effectiveness of some medicines.
Is it ok to give cough syrups in milk to kids?
Yes. In fact, the National Health Service, United Kingdom, website (NHS) suggests , for medicines like paracetamol 'if your child doesn't like the taste, you can give them a drink of milk or fruit juice straight after giving them the syrup.'
Did a mother accidentally kill her kids?
The message has been doing rounds since many years. It doesn't mention any date, location or corresponding news report as source. In this background it is very difficult to know whether there had been any death or investigate the particular reason of such deaths.
But, it can be said for sure that even if an unfortunate event of death of children happened it was not for mixing cough syrup in milk.
Disclaimer: Medical Science is an ever evolving field. We strive to keep this page updated. In case you notice any discrepancy in the content, please inform us at [email protected]. You can futher read our Correction Policy here. Never disregard professional medical advice or delay seeking medical treatment because of something you have read on or accessed through this website or it's social media channels. Read our Full Disclaimer Here for further information.