Can garlic cure nasal congestion?
Not really. There is no scientific evidence that proves that garlic can cure nasal congestion. It does have vasodilative properties but using it for nasal decongestion is not recommended as it can irritate the nasal mucosa and aggravate symptoms.
Quick Take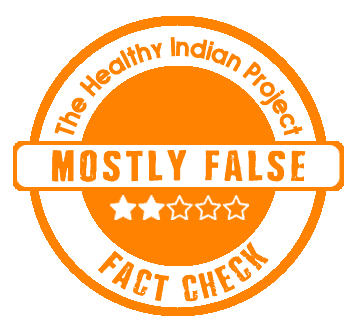 A social media user claim that if you have nasal congestion, you can clear it by either eating it raw or inhaling vapors of garlic in water. We fact-checked and found the claim to be Mostly False. 
The Claim
The caption of a Facebook post reads, "In nasal congestion, eating raw garlic is effective. Also, put a few cloves of garlic in a pot with a cup of water and heat until it starts steaming. Inhale the garlic steam at arm's length."
Fact Check
How can one treat nasal congestion?
Nasal congestion can occur for various reasons, such as cold, allergy, or flu. One can treat it with various remedies, such as using a humidifier or vaporizer, nasal saline spray, nasal irrigator, warm compression or steam inhalation. If these don't work, you may use certain decongestants, which come in the form of nasal sprays or pills.
Common decongestant nasal sprays are oxymetazoline and phenylephrine. Pseudoephedrine is a common decongestant pill. If the congestion is due to an allergy, the doctor may prescribe you an antihistamine or antiallergy medication.
What are the benefits of using Garlic?
Garlic has various medicinal benefits and has been used over many years.
ENT Specialist Dr. Priyajeet Panigrahi, MBBS, DNB, MNAMS, says, "Garlic is a widely consumed spice with a characteristic odour. It contains many bioactive components, such as organic sulphides, saponins, phenolic compounds, and polysaccharides. Organic sulphides, such as allicin, alliin, diallyl sulphid, diallyl trisulfide, ajoene, and S-allyl-cysteine, are major bioactive components in garlic.
Garlic and its bioactive components show many biological functions, such as antioxidant, anti-inflammatory, immunomodulatory, and cardiovascular protective. It is known to have anticancer, hepatoprotective, digestive system protective, anti-diabetic, anti-obesity, neuroprotective, renal protective, antibacterial, and antifungal activities.
It can also reduce oxidative stress, and increase the production of NO and hydrogen sulphide (H2S). Garlic can inhibit the angiotensin-converting enzyme, thereby lowering hypertension. A study showed that AGE could stimulate the production of NO, leading to endothelial-dependent vasodilation."
Can garlic cure nasal congestion?
Not exactly. There is no scientific evidence that proves that garlic can cure nasal congestion. Till now, there is no proof of garlic being a decongestant. Garlic contains a substance called allicin, which has anti-viral, anti-bacterial, anti-fungal, and anti-inflammatory properties, but there is no prove of these properties being present while inhaling the steam with garlic water. The odorants from garlic can cause a vasocontrictive effect and might open the nasal passage. However, this can't cure the nasal congestion.
As per the NCCIH, there is insufficient clinical trial evidence regarding the effects of garlic in preventing or treating the common cold.
Similarly, a research published in 2014 in Cochrane Library that studied 'Garlic for common cold' stated that the claims of effectiveness appear to rely largely on poor‐quality evidence and more studies are needed to validate this finding.
In cases, where the nasal congestion is due to an allergy or flu, it needs treatment. One must know that the irritants of garlic can cause irritation, burning or even bleeding of the nasal passage.
Therefore, one should not follow such remedies as it can worsen your symptoms and irritate the lining of the nose.
Dr. Panigrahi further clarifies this by stating, "Coming to the congestion and decongestion property of our nose, our nasal turbinate muscular structure with rich vascular supply. So any irritants can cause congestion and decongestion alternatively but not specifically unless the substance has vasodilatation properties. Garlic have vasodilatation properties, but the odour of garlic contains Sulphur compounds known as allyl sulphide, which does not have vasodilatation properties.
So nasal unblocking or decongestion can be possible from the irritants of garlic but not due to vasodilatation, so it is not recommended to use it for unblocking the nose."
THIP Media has already fact-checked a similar claim which stated that sticking garlic into nostrils can unclog sinus. 
Disclaimer: Medical Science is an ever evolving field. We strive to keep this page updated. In case you notice any discrepancy in the content, please inform us at [email protected]. You can futher read our Correction Policy here. Never disregard professional medical advice or delay seeking medical treatment because of something you have read on or accessed through this website or it's social media channels. Read our Full Disclaimer Here for further information.