Can home remedies treat vitiligo by applying burnt walnut with camellia oil?
Applying burnt walnut with camellia oil is not a scientifically proven treatment for vitiligo. While home remedies exist, there is no cure for vitiligo, and treatment focuses on managing symptoms and restoring pigmentation. Walnut consumption may have benefits, and camellia oil has potential as a skin-whitening agent, but further studies are needed to confirm their effectiveness in treating vitiligo.
Quick Take
A social media post claims that vitiligo can be treated by applying burnt walnut with camellia oil. We fact-checked and found this claim to be Mostly False.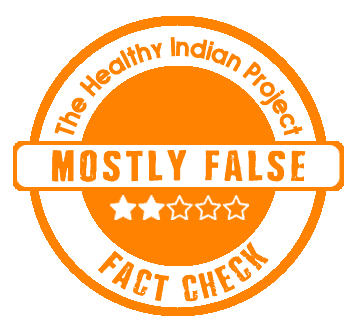 The Claim
An Instagram post displays a video in which a woman's hand had vitiligo and it got cured after applying a mixture of burnt walnut and camellia oil.
Fact Check
What is Vitiligo?
Vitiligo is a long-term skin condition in which white patches of skin appear on different parts of the body. In some cases, the size of these patches gets bigger with time. It occurs due to the lack or improper functioning of melanin (a pigment that gives skin its colour and is produced by the skin cells called melanocytes). This condition can be seen in people of all skin types but is more common in people with black or brown skin. This disease is not life-threatening; however, it can leave some psychological and social impact on some people.
How is vitiligo treated?
The treatment for vitiligo usually depends upon various factors, such as age, skin involvement, the progression of the disease, and its effect on your life. Various treatment modalities try to change the appearance of the skin by trying to restore its colour. However, a few treatment modalities are not permanent solutions and can't always control their spread.
The doctor may recommend sunscreen, Vitamin D, skin camouflage options, steroids, etc. Other options for a dermatologist include medications, such as topical pimecrolimus or tacrolimus, phototherapy, skin grafts, depigmentation, laser, etc.
Can vitiligo be treated by applying burnt walnut with camellia oil treat vitiligo?
Not exactly. There is no scientific evidence to suggest that applying burnt walnut with camellia oil can treat vitiligo. While there are many home remedies and alternative treatments that people may try for vitiligo, it is important to note that these have not been proven effective in clinical trials.
Vitiligo is a complex condition that affects the skin's pigmentation and is caused by a combination of genetic and environmental factors. There is currently no cure for vitiligo, and treatment options focus on managing symptoms and restoring pigmentation to affected areas.
Even though few researchers studied applying a mixture of various ingredients, including walnut to treat vitiligo, the study sample is too small to be applied generally. However, the consumption of walnut is associated with benefitting in vitiligo.
Additionally, study states that camellia japonica oil possesses potent antityrosinase activity and may be a good skin-whitening agent. However, further studies are needed to prove that it can effectively help with vitiligo.
Dermatologist Dr. Jyothy Kannangath shares her view by stating, "There is no scientific research to back up this claim. Vitiligo, a disorder of pigmentation, occurs when the melanin (pigment) producing cells are damaged by our body's immune cells. It can occur at any age and can present in various ways. As it's basically an internal problem, the treatment needs to address that. So just by external application, we can't expect the vitiligo to improve or get cured. Melanin production needs to be improved by oral medications like psoralens, and the disease activity needs to be controlled by immunosuppressants or immunomodulators."
Disclaimer: Medical Science is an ever evolving field. We strive to keep this page updated. In case you notice any discrepancy in the content, please inform us at [email protected]. You can futher read our Correction Policy here. Never disregard professional medical advice or delay seeking medical treatment because of something you have read on or accessed through this website or it's social media channels. Read our Full Disclaimer Here for further information.