Quick Take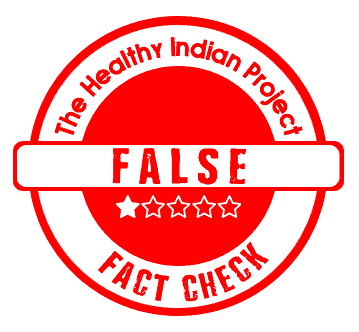 A number of social media users claim that Vicks Vaporub, a popular skin ointment to treat congestion can also help in curing any stress-related skin problems. We fact-checked and found that the claims are false.
The Claim
From dark circles to sagging skin to dark spots – Vicks Vaporub has been touted as a miracle ointment for curing any stress-induced skin problems. Such posts can be seen here, and here. A screenshot is given below.
Fact Check
What is Vicks Vaporub?
Vicks Vaporub is a popular topical ointment that works as a cough suppressant. Available as an over-the-counter medication, it is owned by the American consumer goods company Procter & Gamble. VapoRub is intended for use on the chest, back, and throat for cough suppression or on muscles and joints for minor aches and pains.
What are main ingredients of Vicks Vaporub?
As per the company website, "the active ingredients in Vicks VapoRub are camphor (a cough suppressant and topical analgesic), eucalyptus oil (a cough suppressant), and menthol (a cough suppressant and topical analgesic). The inactive ingredients in Vicks VapoRub include cedar leaf oil, nutmeg oil, petrolatum, thymol, and turpentine oil".
Can stress have an effect on skin? What are signs of stress that appear on skin?
Research has proven that "chronic stress can have a detrimental effect on skin ageing." Experts say the symptoms of skin stress-induced skin problems can be many.
Dr. Joyeeta Chowdhury, MD(Dermatology) says, "Recent research has confirmed skin both as an immediate stress perceiver and as a target of stress responses. The skin plays an important barrier and immune function, maintaining homeostasis between the external environment and internal tissues. Stress causes alteration of the Hypothalamo-pituitary axis. This leads to an array of different chemical alterations in the body that can cause a number of skin problems."
Dr. Iram Qazi, MD (Dermatology) says, "Increased stress can affect your skin in many ways. Stress can cause early skin ageing in the form of wrinkles and fine lines making your skin look older than your age. Also, stress may trigger acne breakouts. That is because stress causes the release of a hormone called cortisol. This hormone increases oil production from the oil glands of the skin. The excessive oil can clog the skin pores around hair follicles triggering acne. Stress can also cause lack of sleep which causes dark circles and puffiness under your eyes. Increased stress can also cause early and rapid graying of hair and hair loss. Stress can increase pre-existing skin conditions such as psoriasis, eczema, and alopecia."
Can Vicks Vaporub help in reducing signs of stress from the skin?
No. Vicks Vaporub cannot remove signs of stress from the skin. There is no scientific evidence about this claim. Experts also advise against it.
Experts suggest against using Vicks Vaporub on the skin to treat skin problems.
Dr. Jyoti Agarkar, MD (Dermatology) says, "There are a number of unprescribed usage of Vicks Vaporub including being used to treat cracked heels, toenails, fade stretch marks, heal rough skin, treat headaches, and keep outdoor bugs away, etc. But none of these are either recommended by the manufacturer or medically proven. I will not recommend using Vicks Vaporub for any skin-related issue. Eucalyptus Oil in Vicks Vaporub can cause allergic reactions. In some cases, using Vicks VapoRub on the skin might cause contact dermatitis."
Eucalyptus Oil is not the only ingredient of concern for experts. Camphor, another ingredient in the ointment can also be a skin irritant.
Dr. P Rammanohar, Research Director, Amrita Centre for Advanced Research in Ayurveda says, "Under Ayurveda, camphor is considered to be a skin irritant. It is never recommended to use it directly on the skin in abundance."
Dr. Chowdhury agrees, "Camphor can act as a contact sensitizer to the skin. It usually causes irritation, dermatitis to the skin and a few cases of leukoderma have also been reported. It has been used to treat certain disorders like the alopecia area as a contact sensitizer. There is no evidence of it being effective in treating skin wrinkles or any other similar skin issues."
Disclaimer: Medical Science is an ever evolving field. We strive to keep this page updated. In case you notice any discrepancy in the content, please inform us at [email protected]. You can futher read our Correction Policy here. Never disregard professional medical advice or delay seeking medical treatment because of something you have read on or accessed through this website or it's social media channels. Read our Full Disclaimer Here for further information.