Quick Take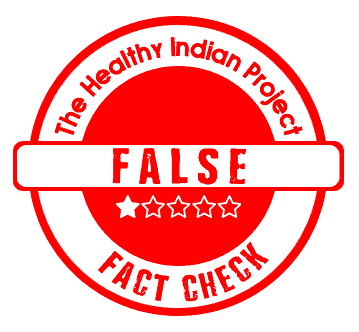 A lot of online videos and discussion claims that rubbing Vicks Vaporub on belly helps reducing fat. Many suggest that the camphor content in Vicks Vaporub works like the magic component. A similar claim has been made about the mixture of camphor and baby oil. We Fact-Check both claims and find out that they are False.
The Claim
A number of Youtube videos claim that rubbing Vicks Vaporub reduces belly fat. Below is one such video. Similar other videos can be seen on Youtube, here and here.
Similar discussions are also seen on the popular question-answer platform Quora. Snapshots of a few of such discussions are given below and archived versions of the discussions can be seen here and here.
Similar claims of reducing belly fat have also been made about mixtures of camphor and baby oil. Snapshots of a few of such discussions are given below and archived versions of the discussions can be seen here and here.
Fact Check
What is Vicks Vaporub?
Vicks Vaporub is a popular topical ointment that works as a cough suppresant. Available as a over-the-counter medication, it is owned by the American consumer goods company Procter & Gamble. VapoRub is intended for use on the chest, back and throat for cough suppression or on muscles and joints for minor aches and pains.
What are the main components of Vicks Vaporub?
As per the company website, "the active ingredients in Vicks VapoRub are camphor (a cough suppressant and topical analgesic), eucalyptus oil (a cough suppressant) and menthol (a cough suppressant and topical analgesic). The inactive ingredients in Vicks VapoRub include cedarleaf oil, nutmeg oil, petrolatum, thymol and turpentine oil".
What does the Company (Procter and Gamble) claim about the ability of Vicks Vaporub?
The company Procter and Gamble, on its website claims, "Vicks VapoRub temporarily relieves cough due to minor throat and bronchial irritation associated with the common cold. It can also be used to temporarily relieve minor aches and pains of muscles and joints. Vicks VapoRub contains medicated vapors that enter the nose and mouth. The powerful long-lasting vapors start working in minutes to soothe coughs for easier breathing."
We further reached out to the company on their views on the ongoing rumour about Vicks Vaporub being effective in reducing belly fat. In an email reply, the company says, "Please refer to www.vicks.co.in/en-in for complete information on the Vicks range. Patients are advised to refer to the website and/or product labels on the indication and appropriate use of our products. Vicks does not endorse any other kind of use."
Can Camphor, in Vicks Vaporub or otherwise, have a beneficial side effect of reducing fat?
We have done a thorough search on various research publication journals. We could spot only one research about the effect of camphor on body fat. A study done in 2015, shows camphor tree (Cinnamomum camphora) seed kernel oil reduced body fats in rats. However, the study was done by feeding camphor tree oil to rats in comparison to other products like soyabean oil. It did not study the effect of topical, external application of Camphor on body fat. Also, the study was not repeated on humans to confirm any positive effect.
We asked experts of our Fact-Checking partner Amrita Centre for Advanced Research in Ayurveda (ĀCĀRA) about what Ayurveda mentions about camphor reducing belly fat.
Experts of ĀCĀRA say, "Udvartanam or massage of the body with herbal powders is recommended in Ayurveda as a supportive treatment for excess fat build-up. But not as a cure for it. And Camphor does not figure in the herbal ingredients recommended.
In the background of this understanding, Ayurveda will not endorse the use of camphor for fat reduction.
Moreover, Camphor can also irritate the skin and cause allergic reactions in some individuals. For this reason, Ayurveda uses camphor dissolved in skin friendly oils like coconut oil."
What is the recommended use of Camphor as per Ayurveda?
As per the experts of ĀCĀRA, "Camphor dissolved in Coconut Oil (Karpoora Tailam) is used in Ayurveda for decongestion of lungs in asthma and related conditions. For loosening phlegm. It is also applied externally on joints to relieve pain and inflammation. But it is not seen recommended for reducing fat by external application. In Ayurveda, camphor is recommended for use under medical supervision only. Edible camphor is used sparingly in cooking. In Ayurveda, is it used cautiously in some formulations for clearing phlegm."
Is there a cure for high body fat or obesity in Ayurveda?
Experts of ĀCĀRA states, "Ayurveda states that obesity is a condition difficult to cure. In fact, the text states bluntly that it is almost an incurable disease – na hi sthulasya bheshajam.
There is no magical remedy for obesity. No single medicine internal or external can treat the problem. Stress management, lifestyle and diet constitute the main approach to treatment. Medicines, either external or internal are only supportive. The more patients comply with the comprehensive protocol, the better the results. Obesity also requires an individualized treatment protocol."
---
This story was Fact-Checked in association with the experts of Amrita Centre for Advanced Research in Ayurveda (ĀCĀRA) under a partnership between THIP Media & ĀCĀRA to Fact Check Ayurveda-based myths and misinformation.
---
Disclaimer: Medical Science is an ever evolving field. We strive to keep this page updated. In case you notice any discrepancy in the content, please inform us at [email protected]. You can futher read our Correction Policy here. Never disregard professional medical advice or delay seeking medical treatment because of something you have read on or accessed through this website or it's social media channels. Read our Full Disclaimer Here for further information.