Does massaging with an oil completely cure for varicose veins?
Can varicose veins be effectively addressed using a Korean oil?
No, varicose veins cannot be treated using any Korean essential oil. It is a medical condition that requires medical treatment addressing the underlying issues with the veins' valves and blood flow. While some oils may provide temporary relief for symptoms, they do not eliminate varicose veins. It is essential to consult a doctor for a proper diagnosis and guidance on treatment options.

Quick Take
A social media post claims that varicose veins can be treated by applying a Korean varicose vein essential oil. We fact-checked and found this claim to be Mostly False.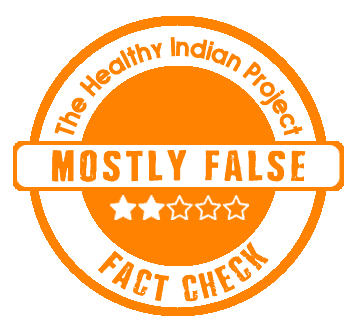 The Claim
The caption of a Facebook post promotes a Korean varicose veins essential oil for slim legs without edema. Made from natural ingredients, it claims to reduce symptoms, relieve pain, support blood circulation, and improve muscle and nerve function.
We have attached the screenshot of the post below:
Fact Check
What are varicose veins?
Varicose veins are enlarged, swollen, and twisted veins that commonly occur in the legs. They develop when the valves within the veins become weakened or damaged, causing blood to pool and the veins to enlarge. Varicose veins are often blue or purple in colour and may be visible through the skin. They can cause symptoms such as pain, aching, heaviness, itching, and swelling in the affected area and risk factors include a family history of varicose veins, pregnancy, obesity, standing or sitting for long periods, and aging.
Can varicose veins be treated by using the Korean oil?
No. Varicose veins is a medical condition caused by underlying issues with the veins' valves and blood flow, and they typically require appropriate medical treatment for resolution. External application of oil alone is unlikely to eliminate varicose veins. While certain oils may provide temporary relief for symptoms like discomfort or dry skin associated with varicose veins, they do not address the underlying causes or structural issues of the veins themselves. Essential oils, such as cypress, horse chestnut, or witch hazel, are occasionally mentioned as potential natural remedies for varicose veins, their efficacy in treating or eliminating varicose veins is not well-established through scientific research. It's essential to approach these remedies with caution and consult with a healthcare professional for proper diagnosis and treatment options.
It is important to note that we are debunking the marketing claim made by the Korean varicose veins essential oil in video and not the product. The oil consists of three ingredients namely papaya, glycerol and garden balsam stem. We could not find any scientific research related to these ingredients that can support the claim. However, limited research is available for Glycerol which was used in conjunction with other ingredients for treating varicose veins. We need more research to establish the sole use of glycerol.
We consult Dr Aseem Sharma, DNB (Dermatology), MBA & FMUHS (Trichology & Hair Disorders) to understand the claim better. He informs, "Massaging with oil may temporarily alleviate discomfort associated with varicose veins. However, it does not do ANYTHING to the underlying condition. Typically weak vein valves and broken blood vessels causes varicose veins. Their treatment typically involves medical interventions such as injection of hardening agents, laser therapy or surgical procedures. Consulting a vascular specialist is better for appropriate evaluation and treatment."
How can varicose veins be treated?
Treatment options for varicose veins may include lifestyle changes (such as exercise and weight management). In many cases, medical interventions such as sclerotherapy, laser therapy, ligation and stripping or surgical procedures may be necessary to effectively treat varicose veins and alleviate symptoms. These approaches directly target the underlying issues and can be more effective in treating varicose veins compared to topical applications of oils.
Oils may offer temporary relief or contribute to overall skin health. However, it is essential to consult with a healthcare professional for a proper diagnosis and guidance on appropriate treatment options for varicose veins. They can assess the severity of your condition and recommend the most suitable interventions to address your specific needs. One must consult with a healthcare professional, such as a vascular specialist or dermatologist, who can provide an accurate diagnosis and guide you through appropriate treatment options based on your specific situation.
This isn't the first time we have found inconsistent claims on treating legs using quick home remedies. THIP MEDIA has previously debunked inhaling lavender treat restless legs syndrome.
Disclaimer: Medical Science is an ever evolving field. We strive to keep this page updated. In case you notice any discrepancy in the content, please inform us at [email protected]. You can futher read our Correction Policy here. Never disregard professional medical advice or delay seeking medical treatment because of something you have read on or accessed through this website or it's social media channels. Read our Full Disclaimer Here for further information.